By: Kristie Kelley / Photographs Courtesy of Trey Radcliff
The alluring magnificence of the Roaring 20's is personified within the enchanted walls of Hearst Castle. Nobel Prize winner George Bernard Shaw touted William Hearst's estate as "The place God would've built if he had the money." A newspaper mogul and son of a self-made mining industry millionaire, William Randolph Hearst commissioned one of the nation's most astounding pieces of architecture. Retreating to solitude from the backlash of his "Yellow Journalism" techniques that fueled the Spanish-American war, Hearst hired Julia Morgan in 1919 to build a two-story home on top of a magical hill in San Simeon, California. Hearst called his conceptualized creation La Cuesta Encantada -- The Enchanted Hill. After 28 years of construction, Hearst's quaint home turned into a lavish estate including 165 rooms, 41 fireplaces, three guest houses, two pools, a library housing more than 4,000 books, a theater, and a private zoo.
Owning nearly three dozen newspapers nationwide, Hearst easily influenced millions of Americans from every strata. However, when it came to his personal friends and entertaining, he only invited the rich and famous. Among those who attended his lavish soiree's were such headliners as Joan Crawford, Howard Hughes, Charlie Chaplin, Winston Churchill, Amelia Earhart, Calvin Coolidge, and even Walt Disney. Upon Mr. Disney's visit to Hearst's mega-mansion, Walt confided that he was about to release a 70-minute animated film about Snow White and hoped it wouldn't fail. Charlie Chaplin is said to have snuck into Hearst's Fur Vault, removed all the fur coats, and decorated many of the statues on the grounds. Hearst was not amused.
Named after the Doge of Venice, this namesake Suite will transport guests back to 16th century Italy. This Sitting room is adorned with elegant blue velvet wall tapestries, a great stone fireplace, modern furniture from the 1920s, and embellished with art and antiquities from Hearst's Grand Tours of Europe. Hearst's love for collecting stemmed from a year and a half-long journey throughout Europe with his mother. As a young and impressionable ten-year-old, Hearst asked his mother if she would buy the Louvre for him. The Doge Suite's marble balcony is inspired by the architecture of the Piazza San Marco and was designed with stately columns with a most impressive gilded 22 karat gold ceiling, all overlooking the awe-inspiring views of the Santa Lucia Mountains.
At the highest point in the Casa Grand, located inside the twin bell towers, is the coveted Celestial Suite. Hearst himself would select only a privileged few to enjoy a magical night in this fairy-tale suite. With balconies overlooking the picturesque California coast, overlooking lavish gardens, and lush countryside, the South Celestial Bedroom has made this enchanted Castillo all the more captivating. With Sunlight spilling through the intricate windows and filling the room with a warm shimmering golden light, the illustrious American actress and gossip columnist Hedda Hopper often described the chamber as a jewel box.
The magnificent enchantment of Hearst Castle, lavish landscape, and the Neptune pool caught the attention of the talented boy wonder, Orson Wells. Hearst, along with his mistress and grand estate, were the inspiration for Welles' 1941 motion picture Citizen Kane. Furious with the film, the influential newspaper tycoon set out to destroy the film, banning any mention of it from being published in his papers, while the feud between the two men almost ended both their careers. Despite Welles' portrayal of him on the big screen, the legacy of William Randolph Hearst's life and estate are indeed something of a movie.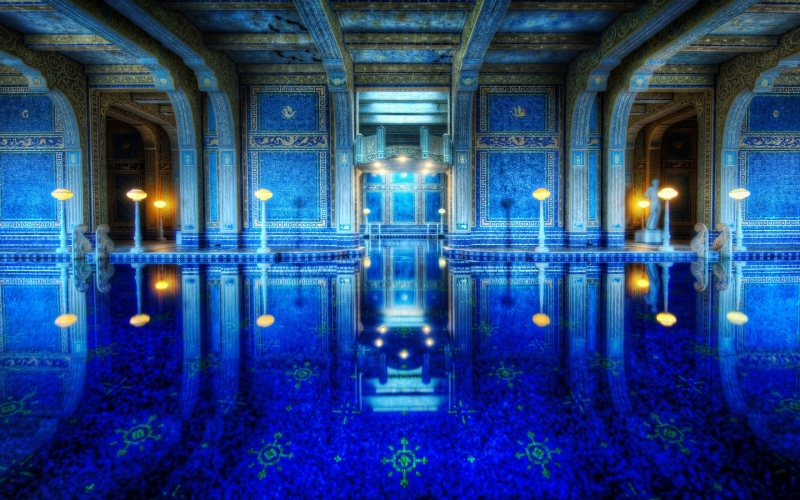 Watch Video: The Azure Blue Roman Pool at Hearst Castle
Let's Get Social...Share this Article with a Friend