By: Susannah Cord
Had she known, when adopting the stage name Mata Hari, that the Malay phrase would bring her as much infamy as fame while leading her to a notorious and possibly unjust death, the young Dutchwoman Margaretha Zelle may have thought twice. A woman of exotic beauty in command of her impulses, with a charming wit and keen intelligence, she would turn her misfortunes to her advantage, using her every talent to survive in a world that gave her little and, in the end, took her all, including her life. At one time, a free spirit deemed ahead of her times, the young divorcee who danced for her supper and became the most celebrated courtesan of her day, would ultimately be caught in the web of extraordinary times that labeled her a double-agent while condemning her for the very exploits for which she had once been revered and celebrated.
Born in 1876 to a haberdasher with a fondness for speculating and excess, the dark-eyed Margreet was adored and indulged by her devoted father. An "orchid among buttercups," the vivacious Margreet soon discovered her power to enchant the opposite sex, enjoying a charmed childhood until bankruptcy and divorce destroyed the family when she was thirteen. Adrift and courting trouble after her mother's death, but determined to "…live like a butterfly in the sun," her adventurous spirit answered the ad of an East Indies Dutch officer home on leave and looking for a wife. Married to Rudolph MacLeod, an alcoholic, syphilitic boor twice her age, the future Mata Hari found herself in the East Indies, trapped by convention while abused and betrayed by her husband. Desperate for an escape, the sensuous beauty found the first clue to her remarkable future in a traditional Indonesian dance, the erotically charged Gandrung.
Intrigued, Margreet joined a dance troupe, taking the artistic name Mata Hari, Malay for sunrise or 'eye of the day', but when syphilis and related treatment nearly killed her daughter while claiming the life of her toddler son, her marriage disintegrated. Disappearing with their daughter, MacLeod left Margreet penniless but determined, starting fresh in Paris. Transforming herself step by step from artist's model to circus performer to a dancer in the exclusive salons of Paris, Margreet skillfully used her innate sensuality and charismatic feminine wiles to survive the day as the widow of an officer. Unapologetic in her lust for life, she loved men and the pleasure they brought her while continually seeking her financial freedom. Too tall, voluptuous, and unskilled to succeed in classical dance, her breakthrough came with her ingenious application of the current trends to her own persona, easily done with her sable hair and dusky complexion.
Reinventing herself as Mata Hari, an enigmatic temple dancer of mysterious origins, she played to an audience fascinated with the Orient. Injecting spiritual dances with a healthy dose of eroticism, she astutely sidestepped the constraints of religious society to profit from that same culture's fascination with sex and nudity, understanding that while they proclaimed her an artiste, they secretly came to see her strip and dance naked. With graceful manners and feline magnetism, she rose through the ranks of the elite, seducing untold numbers of powerful men with her sinuous body and supple mind. Her conquests allowed her to live in a world of her own, supported by eager admirers who bent to her will, but it was an illusory world dependent upon the times. Times would change, to condemn her to death for perhaps little more than her survival skills proved inadequate in the shadowy face of political intrigue. rn
With her travels and paramours of royal and political pedigree, Mata Hari was of wartime interest to both German and French governments. Was it naiveté, arrogance, or financial desperation that let her believe she could dance between the frontlines of war without getting caught in the crossfire? Fact tangles with myth, as Mata Hari, tangled with French and German officials who paid her for little more than gossip while entrapping her in a net of lies and misinformation. A tightening net as French officials sought absolution from disastrous battle strategies, judging in her a woman of loose morals, hence a convenient scapegoat. Convicted by evidence lately proved largely manufactured, Mata Hari met her end with dignity and poise, blowing kisses in the face of death as she had in life. "Mon Dieu, this lady knows how to die!" exclaimed the commanding officer of the firing squad. Little did he know that Mata Hari would become a legend, to live on in the minds and imagination of the world through films and the lore they inspired.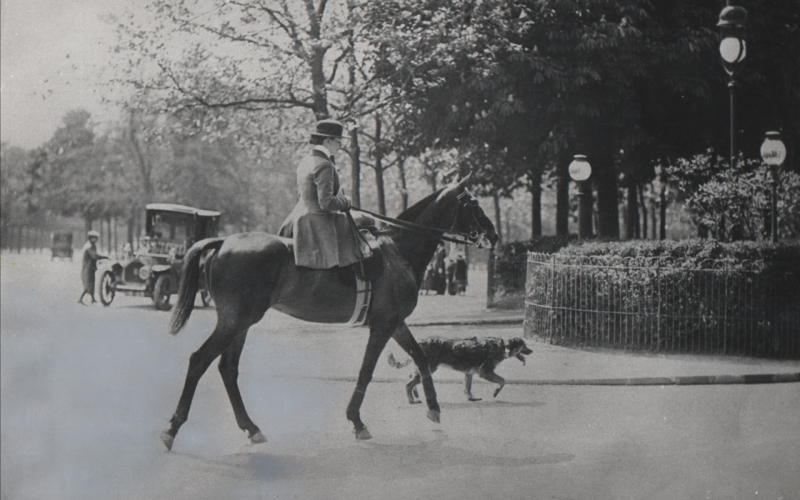 Watch Video: Mata Hari... the Legendary Courtesan Who's Deadly Beauty Rivaled the Powers of Europe
Let's Get Social...Share this Article with a Friend