By: Tom Oliver / Photographs Courtesy of Quique Dacosta
The restaurant of chef Quique Dacosta, which he named after himself, is located in the city of Denia, in the Province of Alicante, in Spain. The region is a colorful and ancient part of Iberia, shaped more than anything by the sea. This intellectual artist of the cocina is a practitioner of minimalist cooking and presentation, whose dishes often surprise the patron with their daring and deception. A red-hot genius of the avant-garde, chef Quique Dacosta approaches creating a new menu item as an artist approaches a blank canvas with a wish to conjure something meaningful that will engage the patron on multiple sensory levels.
Quique Dacosta – call him a minimalist, modernist, master of molecular cuisine, or simply marvelous, all the while making his home in the kitchen of his restaurant in Denia, Spain. Amazingly, Dacosta is self-taught, having started as a dishwasher and then working in several restaurants to learn his craft; he eventually bought the establishment, renamed it, and from there launching his gastronomic explorations. It's hard to imagine that he never apprenticed, in France or Asia, or studying under master chefs. To his credit, roughly a decade after his start as a novice, red-hot chef Dacosta was wowing critics and foodies with such innovations as his edible veils and papers, and he continues to delight and intrigue patrons' minds and palates.
As an author of a well-received tome on the history of rice in the kitchen, a serious student of vegetables, and a chef comfortable investigating unlikely ingredients such as aloe vera, Quique Dacosta is continuing the Spanish modernist culinary experiment pioneered by legendary chef Ferran Adria. The Extremaduran's style can be called techno-emotional, molecular gastronomy, or deconstructionist – but at root, Dacosta believes in starting with the idea that often defies expectations and then creating it with food products that resonate from local heritage and the wider Mediterranean. The Spaniard started on his culinary journey in the 1980s when he began to see the taste for local foods emerge to a more vast audience. Thus, he began to hone and perfect his unique and personal style.
Many of Dacosta's dishes purposely throw gourmands a curve and cause them to re-examine their ideas about cuisine and culture. One dish inspired by Dacosta's contemplation of pebbles on the beach actually features real pebbles, except for one, which is a faux stone made of charred cocoa butter, with melted cheese inside. Another delicate treat is Dacosta's apple rose – to all appearances a rose, but in fact, apple slices colored red and assembled into a flower masterfully. Raviolis, tacos, and tapas are re-imagined with unexpected ingredients – all found within 75 kilometers of his eponymous eatery - that involve more of the senses than just taste.
In 2016, Dacosta was the guest chef at a pop-up tasting experience called "Vanguard," which ran for three months at the Enigma restaurant in Dubai's opulent Palazzo Versace, as part of a series featuring the finest chefs on the earth. The maestro said at the time, as he brought his sublime creations to the Gulf: "It is incredible to bring my cuisine to other parts of the world. I'm thrilled to make my mark in Dubai under Palazzo Versace, and I hope that diners enjoy Enigma and my Spanish cuisine selection, which has deep Mediterranean roots and avant-garde influences, as much as I will enjoy the experience."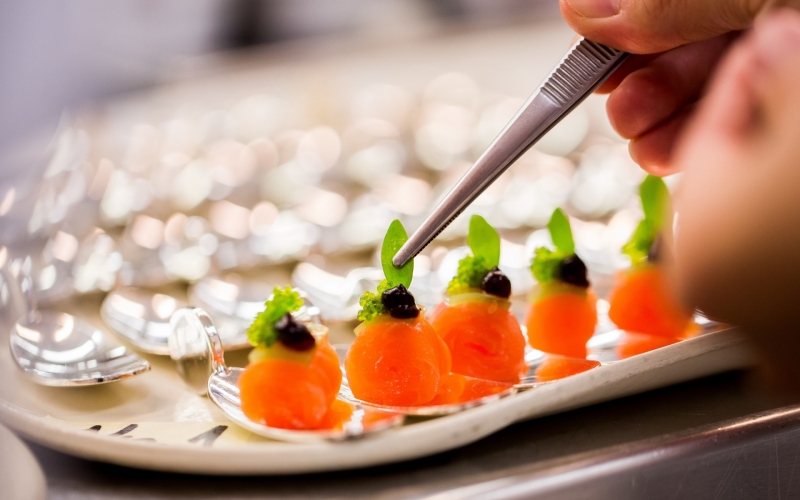 Watch Video: Quique Dacosta, Red Hot Chef of Avant-Garde, Spanish Cuisine
Let's Get Social...Share this Article with a Friend