By: Daniel Evon / Photographs Courtesy of Rémy Martin
From its humble roots as a private winemaker, Rémy Martin has produced some of the region's finest spirits since its inception in 1724. In 1874, Rémy Martin introduced the LOUIS XIII Grand Champagne Cognac. Paul-Émile Rémy Martin wanted to showcase a blend of his house's most refined and oldest Eaux-de-vie, which, up to this point, had been distributed in barrels. Paul-Émile had the vision to put his LOUIS XIII cognac in impeccably designed and individually numbered fine crystal decanters, based on a 16th-century metal flask discovered on the battle site Jarnac in France. Each version of the LOUIS XIII collection has its unique vessel, but all tie back to the original flask's design. This exclusive offering introduced a new level of opulence that embodied the craftsmanship and excellence synonymous with the Rémy Martin name.
Due to its early popularity among Europe's elite circles, Rémy Martin's LOUIS XIII soon became a staple at some of the world's most sophisticated and exquisite events. LOUIS XIII arrived in New York in 1876 – the same year the U.S. celebrated 100 years of freedom. In 1904, it was delivered to Czar Nicholas II in Russia. In the years that followed, the world's most prestigious hotels began offering LOUIS XIII in their establishments. The cognac was served to passengers aboard Europe's Orient Express and on the maiden voyage of the Normandie. French General Charles de Gaulle even celebrated victory over the Nazis in World War II with a quaff of cognac. Likewise, England's King George VI, Queen Elizabeth, and Winston Churchill were served LOUIS XIII during trips to France – as are countless heads of state and dignitaries.
The process to create the world's most remarkable cognac begins with the grapes. The chalky white soil found in the cognac region provides the perfect environment to cultivate and ripen grapes. While most of Rémy Martin's cognacs contain a mixture of Grand Champagne and Petite Champagne crus grapes, LOUIS XIII exclusively uses grapes from only the highest grade vineyards in the Grande Champagne cru – recognized as the most pleasing grape-growing area in the region. At this point, the extraordinary detail needed to create Rémy Martin's LOUIS XIII is evident. The grapes are harvested and fermented – transforming into Eaux-de-vie – before being distilled twice with lees, a mixture of fruit particles, and grape yeast. Only the best Eaux-de-vie – roughly 1 percent – is selected by the cellar master to become LOUIS XIII.
To begin the 100-year aging process, the selected Eaux-de-vie is placed into Limousin oak barrels that allow for the perfect exchange of air and spirit. Every year, the cellar master inspects each cask for aroma and taste. He then uses an expert nose and cellar master secrets to combine Rémy Martin's finest and oldest blends and Eaux-de-vie, exclusively reserved for LOUIS XIII. This process continues for decades, as Eaux-de-vie is passed through four generations of cellar masters until it has aged for 100 years. The final blend may include more than 1,200 Eaux-de-vie, bringing hundreds of unique aromas and tastes over the century-long aging process. The world and technology has changed, but the time-honored technique of creating the very best cognac has remained the same.
The Keepers of the Cognac United for the first time on June 12, 2007, as Rémy Martin hosted a truly unique event. The company brought four cellar masters together to share their stories and experiences about the honor bestowed upon them to create one of the preeminent cognacs in the world. LOUIS XIII cellar masters are in a unique position as they are tasked with finding the best Eaux-de-vie to pass down to the next generation. Still, since the process to create LOUIS XIII takes 100 years, each cellar master will die before they can savor their final results. Therefore, the Eaux-de-vie they select for their batch becomes their legacy, passed down for future generations to enjoy. With this dedication to tradition, craftsmanship, and quality, it's no wonder that Rémy Martin's LOUIS XIII is among the world's most cherished cognacs.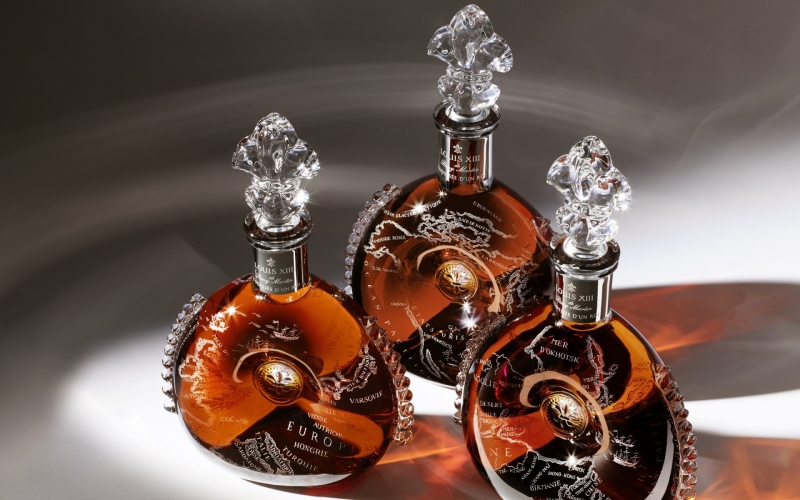 Watch Video: Rémy Martin LOUIS XIII Grand Champagne Cognac Tasting
Let's Get Social...Share this Article with a Friend