By: Daniel Evon / Photographs Courtesy of Skyacht One
Imagine if a Yacht that could fly. Behold, Skyacht One soars with its hand-painted "Trompe l'oeil" Mahogany Hull" and towering vertical stabilizer. Embraer's Lineage 1000E is the most prominent executive jet in their fleet and is considered the top contender for the best ultra-large executive jet for 2015. With Skyacht One, a highly exclusive and customized version of Embraer 1000E Executive Jet, former Senior Disney "Imagineer" Eddie Sotto of Sotto Studios in Los Angeles has teamed with Embraer to develop an interior design theme that is ultra-custom, catering to travelers who seek a higher level of luxury and refinement that has, until now, been reserved only for the most impressive oceangoing yachts.
The British Campaign style set's a magnificent vision as if Queen Victoria herself were traveling in the 21st century. The first impression is without equal; A Planetary Clock lies embedded in the marquetry mural inspired by the 15th Century Ducal Palace's Studio of Italy. The rug is Fornasetti, and the Galley is appointed to evoke the luxury of a bygone era. Beautiful custom hardware sets off the personalized embossed leather, and upon closer inspection, the bulkhead walls are pegged and planked as on a Yacht. This luxury detailing is indicative of Embraer and its commitment to quality and innovation.
Behold, and ye shall see the future's past, a true Renaissance Masterpiece! The main cabin is expansive and luxurious, with a Cocktail Bar and Chesterfield Sofa for watching television or surfing the Internet. Innovative Luxury—permeates every detail in the cabin while the seating is extravagantly flanked by inlaid paneling and porthole windows lined in brass, mahogany, and nickel. Platinum Controls are bejeweled and easily operated. Faux sharkskin lines the valances and tabletops, while Skyacht's ribbed structure of inlaid brass and wood spans the cabin with adjustable lighting.
The Captain's Quarters is a place where Errol Flynn or Captain Nemo might plot their next conquest. Fiercely romantic, intimate, and lined in padded suede, underscored by book-matched Macassar walls and paneled ceiling. Authentic detail abounds at every turn. 14th Century The Reading Lights adjust up and down the ship's trusses while a flat-screen TV faces on the opposite bulkhead. Astrological maps are the inspiration for the silk Cellarius Carpeting while Skyacht's signature Armillary Sphere is inlaid on the secret sliding door.
Skyacht master bath is a design masterpiece. It features a bejeweled "throttle" like a faucet with a lit gauge that controls temperature over a walnut and gold sink. The edge-lit bronze mirror softly bathes the space while adjustable spotlighting tasks the working area in addition to a brass framed window. The walls are lined with matte finish teak, and mahogany held tightly by brass fittings contrast the woodgrain green malachite countertops, and the shower lends a rich elegance. Vintage Fornasetti accessories accent the platinum Skyacht hardware. Embraer's brilliant collaboration with Internationally Recognized Designer Eddie Sotto would make Jules Vern smile!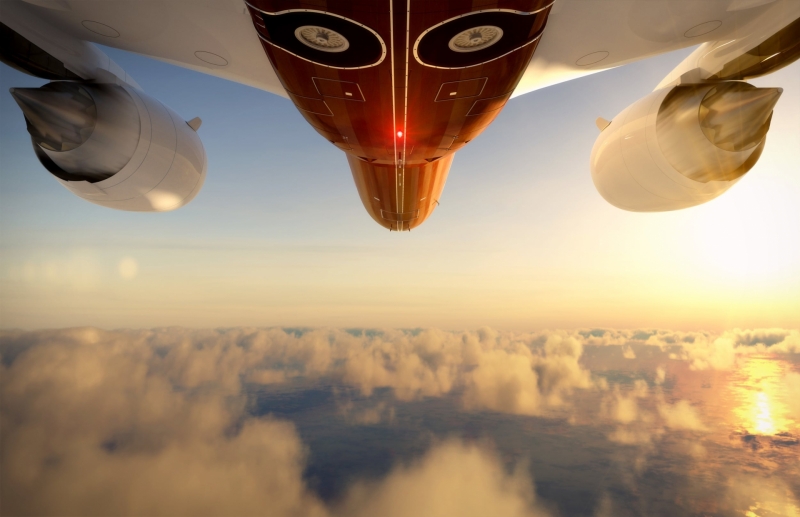 Watch Video: Exploring the boundaries of technology and fantasy...Welcome to Skyacht Onern
Let's Get Social...Share this Article with a Friend