By: Jeffrey Steele / Photographs Courtesy of Dunhill
Whisper the term "Bespoke tailoring." The words conjure images of Victorian-era British luxury, exquisite, precise, and reserved for the nation's aristocracy. "Bespoke" derives from the verb "bespeak," the giving of orders for something to be made. In this case, it specifically denotes the creation of custom-made suits, jackets, and other clothing handcrafted by British tailors to exacting specifications. Perfected on London's Saville Row centuries ago, its ethos has since been carried worldwide. As distinguished from off-the-rack or made-to-measure clothing, bespoke tailored apparel is based on patterns explicitly crafted for each customer, with each reflecting more than 20 measurements. These patterns serve as the blueprint for the bespoke suit and are kept on file to be accessed should wearers require additional suitings. The tradition of world-class bespoke tailoring is among the hallmarks of Dunhill, the globally-renowned London-based luxury goods brand synonymous with peerless menswear, butter-soft leather goods, and fine accessories ranging from eyewear and writing instruments to men's jewelry, timepieces, lighters, golf wear, gifts, and games.
Nothing signifies Dunhill's elevation of the indulgent male lifestyle quite like Bourdon House. One of the world-famous retail emporiums known as the "Homes of Alfred Dunhill," Bourdon House graces London's exclusive Mayfair neighborhood with Edwardian-era elegance and sophistication befitting the legendary Dunhill brand. In the home's bespoke shop, ornamented by rich mahoganies and sumptuous leathers, tailors and artisans grant private consultations with gentlemen customers, matching each with custom selections from hundreds of fine cloths and fabrics. Visitors also relish appointments with the Barber at Alfred Dunhill, where they enjoy wet shaves, haircuts, and undivided attention. In the spa, skilled therapists and masseuses offer the ultimate in personal relaxation services. And whether dining al fresco in the courtyard restaurant or enjoying the cozy intimacy of the Cellar Bar, Bourdon House guests savor the experience of winding down with a consummately prepared cocktail or light repast.
Launched by Alfred Dunhill in 1893, the company found immediate acceptance catering to British nobility as well as the landed gentry. By the early 20th century, it had expanded into a full line of luxuries designed to meet the tastes of the most discriminating English gentleman. Having carved out an unrivaled reputation in the British Isles, Dunhill expanded in the early 1920s, launching a store first in New York City and soon after one in Paris. Dunhill continued winning brand ambassadors worldwide, and not even a World War II bombing of its Duke Street store by the Luftwaffe could slow its expanding influence. By the 1970s, Dunhill offered more than 3,500 items. More recently, the company has unveiled Homes of Alfred Dunhill in select cultural and financial capitals across East Asia.
Throughout Dunhill's history, the Homes of Alfred Dunhill have welcomed untold numbers of internationally famous luminaries and power brokers. Legends of the London and New York stage, the global cinema, and the world's sporting arenas, not to mention leading figures in politics, finance, medicine, science, and art have strolled in kingly fashion through the doors of these incomparable venues. Among the most recent is Irish actor Aidan Turner, celebrated for roles as Kili in Hobbit and Ross Poldark in the 2016 BBC adaptation of The Poldark Novels by Winston Graham. Turner was recently spotted at All England Lawn Tennis Club in Wimbledon garbed in an impeccable pearl grey Dunhill suit and matching Dunhill sunglasses and stylish barley-patterned grey temples. He also attended 2016's 21st National Television Awards in a dapper navy Dunhill suiting.
In swiftly emerging countries like the UAE and China, British brands are viewed as the ultimate and supreme manifestations of luxury, refinement for gentlemen the world over. What's more, Western design is the inspiration for today's most significant Chinese fashion developments. It's no surprise, then, that the Alfred Dunhill Shanghai Home has achieved enormous success since its 2008 debut. Immediately embraced upon its unveiling by China's newly wealthy beau monde, Shanghai Home is situated in a nearly century-old, superbly-renovated neoclassical style villa in the city's one-time French concession. Encircled by the deep green of flawless English gardens, Shanghai Home offers incomparable suitings and leather goods, as well as fine dining. Like its counterparts in London, Hong Kong, and Tokyo, Alfred Dunhill Shanghai Home is poised to introduce this unrivaled brand to new generations of men who accept nothing less than the very finest quality in every purchase, from apparel to accessories. It might be said no other brand suits them quite so well.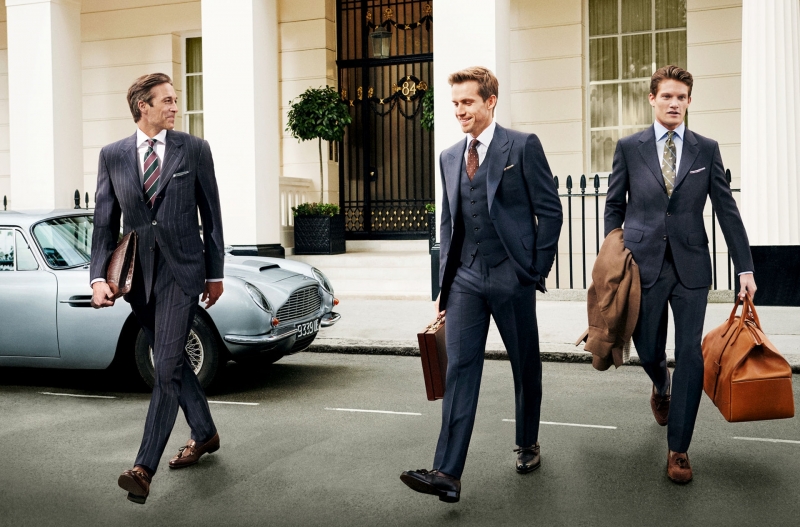 Watch Video: Dunhill London, Bespoke Tailoring for British Gentleman & The Landed Gentry
Let's Get Social...Share this Article with a Friend