By: Najah Syed / Photographs Courtesy of Chalet Ormello
Right in the heart of French Commune Saint-Bon-Tarentaise lies Courchevel 1850, a world-renowned ski resort that remains unparalleled in both beauty and extravagance. Constructed after World War II, this haven of luxury leisure is the easternmost and most upscale component of the largest connected ski area in the world, Les Trois Vallees. The resort is comprised of four separate villages, Courchevel 1300, 1550, 1650, and 1850, all of which are named for their metric altitudes, but the latter is particularly special. Considered the finest skiing community in France, Courchevel 1850 is notable for its selection of eleven five-star luxury hotels. All have their own unique charm, with magnificent amenities, extraordinary service, and an assortment of engaging recreational activities – but few compare to the glorious Chalet Ormello.
This fabulous chalet is a relatively recent addition to Courchevel 1850, and now, Ormello is without question an epitome of opulence and grace. However, this wasn't always the case, as this stunning villa originated as a humble barn which ultimately changed when skilled architect Christophe Tollemer entered the picture in 2009. Noting the vastness of the building and its convenient location near Bellecôte's North Face, he spent over one million euros to transform it into a dream holiday location for avid skiers. Today, Chalet Ormello is a grand estate owned by the five-star Hotel de Charme les Airelles and frequented year-round by grateful guests. Surrounded by several other hotels of distinction in Courchevel, Ormello though slightly smaller, easily holds its own, offering an indulgent vacation from the beginning of your stay to the end.
The chalet experience begins as soon as you step into the easily accessible Ski-in/Ski-out entrance. Leaving the cold behind, you will be mesmerized by the soothing warmth of your new surroundings. Ormello effortlessly combines traditional and modern styles of décor, with its beautiful Persian rugs and eye-catching displays of classical art. Exploration of the residence will reveal nine lavish bedrooms, two of which are masters with fireplaces, along with a ski room, dining room, kitchen, and sizable lounge with breathtaking mountain views. The basement level contains a gym, massage room, bar, kids' playroom, theater room, and swimming pool with an outdoor Jacuzzi. On top of this, Ormello guests have access to the services of a butler, chef, and driver, along with all facilities at the Hotel de Charme Les Airelles, a short walk away. Clearly, Guest comfort is a priority of the management, exemplified even further by its delectable dining options.
Both the Charme Les Airelles and Ormello Chalet, along with Courchevel at large, offer a variety of gastronomic delights to appease any palate. The accomplished chalet chef and his team have been honored by the Michelin Guide with their unique ability to create a menu of magic and wonder. Besides the daily hot breakfast, afternoon tea, and five-course dinners, guests may request any meal their heart desires; the culinary artists at Ormello will oblige using the freshest ingredients that are sure to amaze. For its part, the Charme Les Airelles offers the expertise of famed chef Pierre Gagnaire. If you wish to dine in town, you are in luck: Courchevel's seven charming restaurants share a combined eleven Michelin stars and serve an extensive array of international cuisine. Wherever you choose to indulge, you will certainly be satisfied before spending the rest of your day exploring the village or skiing around Les Trois Vallees.
Although Courchevel is known for its remarkable skiing experience, non-skiers have no shortage of entertainment opportunities. The towering mountains are ideal for other winter sports, such as bobsledding and ice skating, but those who wish to avoid the snow can partake in horseback riding, fishing, or a memorable hot air balloon ride thru the valley. Also popular are day trips to The Forum, a central space in the village with a concert hall, bowling area, and chic boutiques such as Chanel and Valentino. To cap off this great adventure, a visit to the Family Park will afford magnificent fireworks in the evening and quality time with loved ones before you return to your luxurious accommodations for the night, eagerly anticipating yet another wonderful day ahead. Indeed, few places in the world equal the French Alpine Luxury of Chalet Ormello and Courchevel 1850.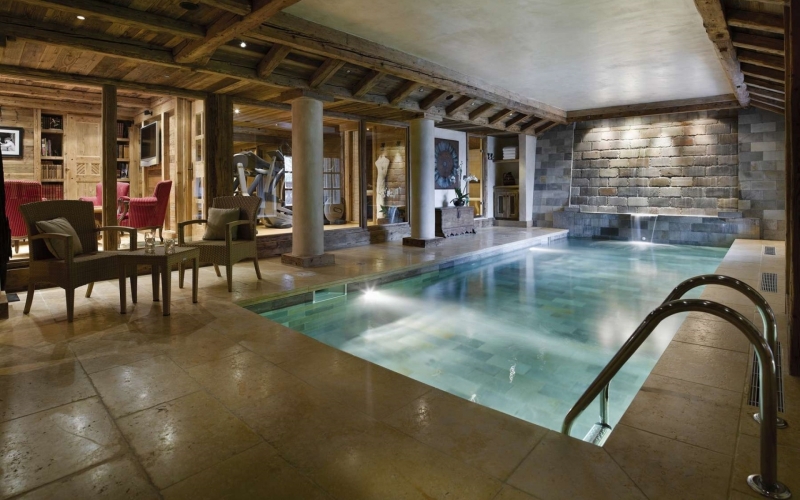 Watch Video: Chalet Ormello
Let's Get Social...Share this Article with a Friend