By: Susannah Cord
Growing up in a flat above her father's magazine distribution offices, the young Bianca Balti was inspired to dream as many have dreamed before her, though they found only an impossible fantasy. But in retrospect, the young Italian beauty, enduring childhood bullying for her unusual height and sculpted face, seemed destined for a life far beyond the Italian town of Lodi where she grew up. It was a life Balti felt calling as she perused the glossy fashion magazines in her father's office and tentatively pursued after moving to Milan to attend university as a graphic design student. Initially, it was a fantasy that eluded her grasp, but ultimately, the dream itself sought out Balti, to see her travel the globe as an Italian supermodel, as the most recognized muse of Dolce & Gabbana, and as an Ambassador for Paris L'Oreal.
Working as a cashier in a Milan supermarket in 2004, it was hardly the vision Balti had envisioned for herself, but having been turned down by numerous casting agents for lack of charisma and experience, it was a necessary evil. As fate would have it, it was also what placed Balti in the path of scouting agent Bruno Paulette, founder of the Milan modeling agency Brave Models. It was a meeting that would change Balti's life all but overnight, bringing her an exclusivity contract with Dolce & Gabbana only a few months later, and eventually to the 2013 Dolce & Gabbana Light Blue fragrance photoshoot that would catapult Balti to intense global fame. Belying all previous suggestions of an insufficiency of allure, Balti positively smoldered in the arms of male supermodel David Gandy as they lounged and tangled in the exquisite beauty of Capri's sunlit beaches and surf.
By the time of the worldwide success of the Light Blue campaign, Balti's dreams of supermodel stardom were already well underway. With appearances in acclaimed fashion shows and covers for prestigious fashion magazines like Vogue and Harper's Bazaar, it was only a matter of time before Balti was included in Victoria Secret's band of Angels to appear in their catalogues and shows in 2005. Marrying photographer Christian Lucidi and giving birth to daughter Matilde, by 2007, Balti's personal life was taking shape as swiftly as her career. By 2010, Balti had appeared in the movie GoGo Tales and became the face of international campaigns for Cesare Paciotti and St. John, but her first marriage was ending. Determined to succeed as a working mother, her career continued to flourish when she signed with L'Oreal Paris as an Ambassador for the brand in 2011, the culmination of yet another dream for Balti.
Along with the success of the Light Blue campaign came a new chapter in Balti's personal life. Holidaying in Marbella, Spain, Balti met personal coach Matthew McRae, the man she would go on to marry in a civil ceremony in August 2016, and the father of her second daughter, Mia. A year later, they would renew those vows in front of family and friends in the romantic setting of The Ranch in the canyons above Laguna Beach. Seeking an unpretentious and natural atmosphere, the down-to-earth bride-to-be wanted the décor to represent both her Italian heritage and the new roots she has set down in Orange County, California. With help from Natalie Good of A Good Affair, Balti's vision of her perfect wedding came to life in sprays of white wisteria and luscious blooms mingled with lemons.
On a verdant lawn overlooking the Pacific Ocean, Balti tied the knot with McRae in a ceremony officiated by her new father-in-law, while her own father brought the formality to an emotional close with a reading of First Letter of Paul to the Corinthians, a letter famously dedicated to the nature of love. Glowing in a billowing empire dress by Dolce & Gabbana, Balti was accompanied by Matilde and Mia, each in their own miniature versions of their mother's dress, walking on a bed of white rose petals as more showered down upon them and the happy groom. Surrounded by her loved ones, the young Italian girl who dreamed of supermodel stardom could still be spotted in the poise and exuberance of the young woman who dined and danced the night away, new and inspiring dreams just a breath, or chance meeting, away.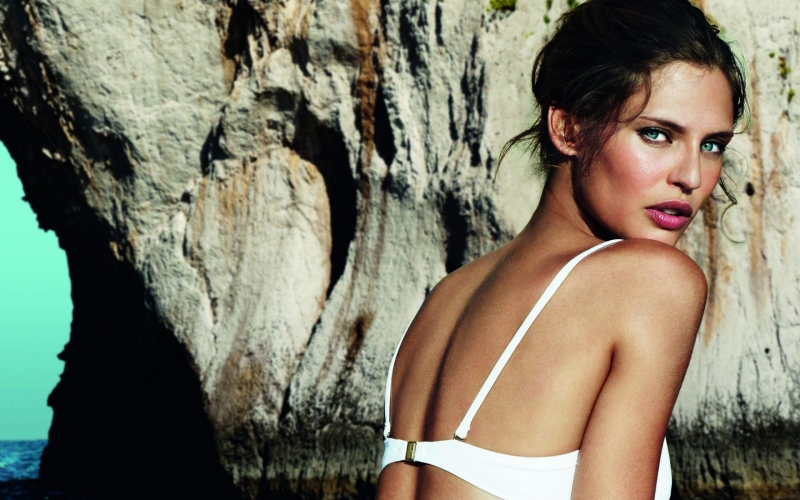 Watch Video: Bianca Balti...Italian Super-Model and Dolce & Gabbana Muse, Inspired to Dream
Let's Get Social...Share this Article with a Friend