By: Daniel Evon / Photographs Courtesy of Tuscan Bistro, Irene
Italian master chef, Fulvio Pierangelini's Tuscan Bistro, is located in the Hotel Savoy and firmly ensconced within Florence's venerable Piazza Della Repubblica. Irene has been charming tourists and Florentines alike since April of 2015 with an appreciation of maternal Cucina that has inspired Tuscan dishes that spring from the heart and soul of this sensitive virtuoso. The eatery is named after the mother of Rocco Forte, CEO of the eponymous hotel chain and Pierangelini's boss since the culinary wizard became executive chef for the hotel group in 2009. Irene, says Pierangelini, is a bit wild and playful, yet a tribute, through food, to maternal love.
The dream team of Giovanni Cosmai, head chef, Fulvio Pierangelini director of food, and Paul Feakes, restaurant manager, is at the heart of Irene's success. Cosmai has studied and cooked in every part of the world while Feakes stayed at the Savoy during his first study trip to Italy and took a local cooking class, and immediately fell in love with Florence and its regional cuisine. Pierangelini began cooking with his mother as a young man and then ran the successful Gambero Rosso restaurant in Tuscany before joining forces with Rocco Forte Hotels.
Irene has a warm and inviting 1950s retro décor with Cookbooks and flowers adorning the tables. Chef-philosopher Pierangelini says, "Irene is a bit insolent, free, contemporary, charming, bold, mischievous, irreverent, and cheeky. There is an understanding that the kitchen is a part of women's history, while the men who have walked into this intimate world have been successful, we are still intruders". The warm tones of Bistro Irene have a feminine ambiance that accentuates the presentation of delightful Tuscan dishes that are prominent on the menu – calamari with vegetables, beef filet with herbs, or fish tartar with vegetable sorbet are Florentine favorites.
Fulvio Pierangelini's gastronomical philosophy is perhaps best exemplified by his statement that risotto needs to be treated like a lovely woman, gazed at, touched, and loved. He keeps his senses and imagination open when he interacts with food and prepares each dish with sensitivity and understatement. Pierangelini has said that ravioli is his favorite dish to make because of the surprise that's hidden within; he always strives to introduce a local twist, for example, putting Florentine tomato sauce in the ravioli at Irene. New kitchen creations, he said, and even old favorites must express the emotion of the chef, "a very irrational approach."
Florentines, as well as educated travelers, continue to make Tuscan Bistro Irene a gastronomical mecca. Light versions of Tuscan favorites and interesting fusion inspirations make Irene a place for foodies – locals and studious travelers alike. Poached eggs and shaved truffles await, or a cocktail worthy of a selfie at the funky bar. Chef Pierangelini and the rest of the team at Irene are serving up delicious fare in a friendly environment with food and drink that will satisfy any gourmand who slips into Irene after a busy day or evening in the magnificent City of Florence.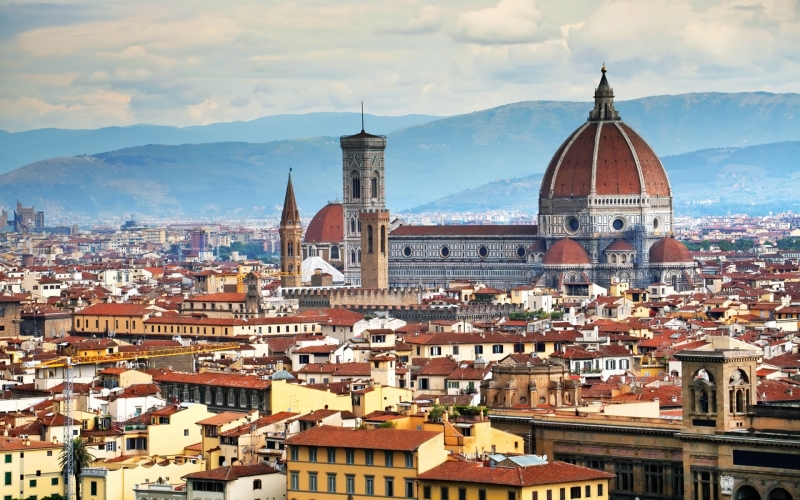 Watch Video: Taste Florence, A Culinary Excursion through Florence by Celebrity Chef Fulvio Pierangelini
Let's Get Social...Share this Article with a Friend