By: Jeffery Steele / Photographs Courtesy of Yuba & Pushelberg & Others
Creators of luxury yachts, exclusive restaurants, world-class hotels, and even ultra-high-end homes invariably seek to ensure they leave their well-heeled customers with mind-blowing first impressions. And over the years, many have found there's a fail-safe way to accomplish that daunting feat. They call on Yuba Pushelberg. The talented, talked-about Toronto twosome of interior designers George Yabu and Glenn Pushelberg has very simply set New York City on fire over the past several years with its ground-breaking, eye-catching designs. Partners in business, design, and private life, Yabu and Pushelberg focus on interior design and furniture creation for the hotel, retail, and restaurant industries as well as private homeowners. Their firm's work has turned heads from Tokyo, Toronto and to Times Square, most recently gracing New York's Park Hyatt in the brand new, landmark One57 Building, the sleek, shimmering 90-story tower that has justifiably set tongues wagging.
Upon its unveiling, the Park Hyatt in the $375 million dollar skyscraper, One57 became Manhattan's first new ultra-luxury edifice since the arrival of Mandarin Oriental almost a dozen years earlier. The hotel was expressly created to instantly become a New York City icon. That made it essential the interior design be entrusted to none other than one of the world's most celebrated design teams. Having forged a long, productive, mutually beneficial partnership with Hyatt, Yabu Pushelberg was the only real choice to oversee the design. The firm, which commands fees of millions for each of its design projects in bistros and hotels worldwide, conferred upon the hostelry a design that whispers to guests they've fully arrived. Boasting sleek lines, a cool gray palette, and tastefully placed objets d' art, the interior is at once modern and exquisitely glamorous.
No one should be surprised at the acclaim Yabu Pushelberg's work on the Park Hyatt has generated. In fact, raves are entirely de rigeur, given the unbridled commotion the firm's groundbreaking interior design work has ignited across the globe. In recent years, Yabu Pushelberg has created designs that touched the soul in places as far-flung as Berlin and Bangkok. A hotel project in the U.K. brought the spirit of chaotic London streets into interiors that transition organically from space to space. When Canadian fashion house Ports 1961 opted to unveil a flagship Shanghai boutique, it sought to provide customers an elevated shopping experience unlike those anywhere else. Yabu and Pushelberg were the logical designers for the appointment. Mixing minimalist elements with elegant materials and a simple color palette, these doyennes of design crafted an interior milieu blending harmony with monumental grandeur at this busy, high-end Shanghai intersection.
Yabu and Pushelberg weren't always internationally-extolled interior designers. Their legendary trajectory can be traced way back to the early 1970's when the Ontario natives met as students at Toronto's Ryerson Polytechnic University. Building their firm, initial assignments came slowly. Early on, the two burnished their craft, designing bourgeois settings like copy shops, which led to their watershed moment: the design of Toronto's Club Monaco store. As the 1990s segued into a new millennium, their renown soared with every new increasingly high-profile and ambitious commission. And an ever-more elite clientele came calling to seek their unique talents. After more than four decades together, they can – and often do – finish each other's sentences as they engage their raconteurial instincts. Sharing a relationship as joyous and effervescent as it is symbiotic, Yabu and Pushelberg aren't just among the earth's most honored interior designers. They're also among the most entertaining.
Still reverberating are the rhapsodic reviews of Yabu Pushelberg's work at the new One Madison, the luxury condominium near the Flatiron Building that stands at the epicenter of New York City's most dynamic and dramatic enclave. These are but the most recent bouquets in the firm's history that are overflowing with accolades. The two have garnered honorary doctorates from their alma mater, been named among "101 People You Must Meet" by Town & Country magazine, seen their company anointed as a "Hot Interior Design Firm" by Conde Nast, and snagged the James Beard Foundation award feting restaurant design excellence. In 2013, Yabu and Pushelberg captured their most prestigious honor to date, the highest award their native country bestows, Officers of the Order of Canada. As thrilling as is their portfolio, what truly excites the sensibilities of the design glitterati is something more forward-looking: The designs the duo have yet to deliver.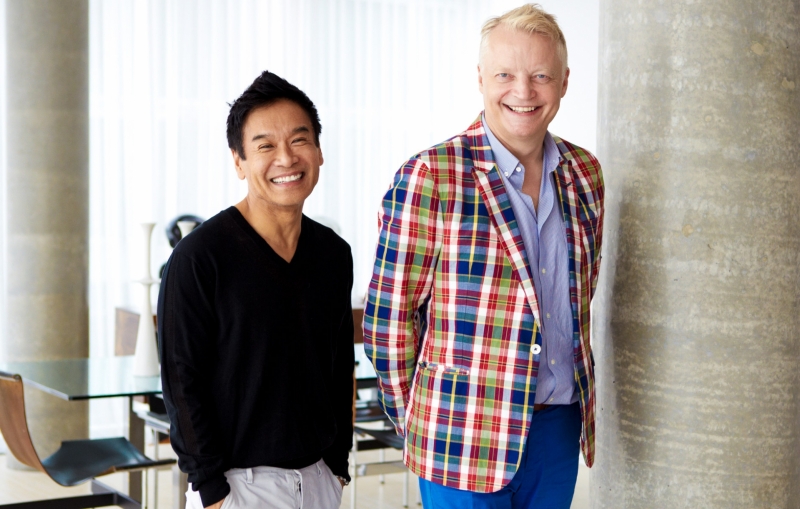 Watch Video: Yabu and Pushelberg, The Inside Story
Let's Get Social...Share this Article with a Friend