By: Layla Ulrich / Photographs Courtesy of the St. Regis Bora Bora
The St. Regis Bora Bora Resort is a luxury hotel in the heart of French Polynesia. Surrounded by a crystal clear saltwater lagoon, guests are treated to impressive views of the main island of Bora Bora, the remote islands of Tahaa and Raiatea, and the extinct volcano Mount Otemanu, the highest point in Tahiti. There are 24 Superior Overwater, One-Bedroom Villas for guests to choose from. Each villa overlooks the turquoise lagoon and includes a private terrace and gazebo. Villas are 1,550 square feet of total privacy, offering guests a relaxing and secluded stay atop pristine water. The hotel also offers guests exclusive accommodations and amenities, including world-class spa facilities, elite water excursions, and fine dining experiences.
The St. Regis Bora Bora is a private resort located on the island of Moto Ome'e, which can only be accessed by boat or helicopter. The hotel provides a yacht service between the resort and the airport for easy round-trip transportation. Upon airport arrival, guests are shuttled by yacht to the stunning St. Regis arrival dock, where they're greeted by hotel staff and shown to their luxury villas.
The St. Regis Bora Bora boasts 8 Premier Overwater Villas that feature a private terrace, whirlpool, covered pavilion, daybed, private pontoon, and outdoor shower. Premier Overwater Villas are designed using exotic woods and Italian marble while offering guests a piece of their very own Polynesian paradise. Glass viewing panels within the Villa provide guests with endless views of the turquoise water, and the private terrace with a whirlpool offers breathtaking views of the sunrise and sunset over the romantic lagoon.
The St. Regis Bora Bora is a family-friendly resort with suites suitable for families and special accommodations tailored to children. The Premier Overwater Villa is 1,905 square feet, capable of sleeping 4, and is the perfect size for small families. Featuring an adjoining lounge with a daybed and a bedroom with an en-suite bathroom, families have plenty of room to relax without feeling cramped or crowded. Upon request, the hotel will also outfit each room with child-sized robes and slippers to make the entire family feel welcomed and pampered. Additionally, throughout your stay as a family, the resort will arrange family-oriented activities and childcare services.
French Polynesia has a reputation as the Islands of Love because of its natural beauty and romantic seclusion. The St. Regis takes this reputation seriously, offering guests luxury facilities and personalized services to celebrate being together. Weddings are individually tailored, and couples can choose between an intimate ceremony for two or a larger celebration among family and friends. The hotel's team of wedding planners will work with you to bring your dreams to life and will remain at your disposal for the entirety of the day. The resort is also the ideal location for a honeymoon, offering guests packages that include a fresh lei greeting, round-trip resort transfers, and your choice of custom accommodations. The St. Regis has partnered with Honeymooon Wishes, offering an online bridal registry focused on Romance in Bora Bora as wedding gifts. Through Honeymoon Wishes, wedding guests can get involved in various activities, including elegant dinners, couples massages, and surprise deliveries. Whether you're taking a romantic getaway or a family vacation, the St. Regis will more than satisfy all of your vacation needs.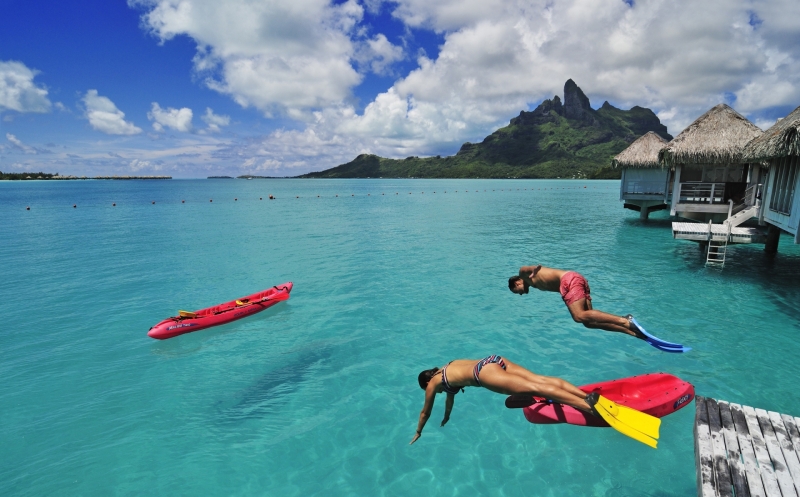 Watch Video: Experience The St. Regis, Bora Bora
Let's Get Social...Share this Article with a Friend