By: Najah Syed / Photographs Courtesy of IL Divo
The immaculate conception of 2003 was conceptualized and brought forth by the brilliant music producer Simon Cowell. His instincts and initiative gave birth to the romantic and classical crossover group IL Divo after witnessing an Andrea Bocelli concert. In 2017 the group continued to dazzle audiences worldwide during A Night with the Best of Il Divo tour, and their name has become synonymous with grandeur and majesty. Cowell, who famously owns record label Syco Music, astutely predicted that these four multinationals, accomplished beyond belief, would usher in a new generation to classical music listeners, and right he was. Of course, these virtuosos already had significant vocal experience before encountering Cowell. The Swiss Urs Buhler, American David Miller, and Spaniard Carlos Marin pursued opera and classical training for years, while Frenchman Sebastien Izambard was a self-taught pop singer. Together, IL Divo has introduced and attained unparalleled success in the genre of "popera," or operatic pop, attracting millions of listeners of all ages and nationalities with their pure incandescent passion on stage.
The group's name, which means "divine performer" in Italian, represents the unification of its member's ethnicities, their voices united. Clearly, this alliance has proven effective: with very little radio play, IL Divo sold millions of concert tickets and over 30 million albums, received fifty Number-One records, performed four sold-out global tours, and won 160 gold and platinum awards in over 35 countries. The quartet has also earned honorable accolades such as "Artist of the Decade" and the Silver Clef Award. From 2004 to 2015, IL Divo released seven studio albums and collaborated with other acclaimed musicians, such as Celine Dion. Still, the four concede that creative disagreements almost separated them. They soon realized the need for a united cooperation and ultimately established a genuine camaraderie. They began to meld while creating a new and unified quartet of cohesive passion, a new depth of sight and sound that launched a riveting white-hot international journey.
These four young men have recorded distinct operatic performances for global audiences while blending their powerful vocals with pop, Latin, Bolero, Tango, and Spiritual music. In 2004, they initially released their first album, IL Divo, in Norway, Ireland, and the United Kingdom but debuted worldwide after achieving double platinum in the first weeks alone. This led to their first sold-out international tour and two more outstanding studio productions, Ancora and Siempre. Their grand tour of 2008 followed their fourth compilation, The Promise, and involved 130 performances in 6 continents, 31 countries, and 81 cities. It became the highest-grossing tour of the year and then furthered by two additional productions, Wicked Game and A Musical Affair, and concluding with two additional multinational tours. In 2016, the group's latest album Amor y Pasion was, if you can imagine, an even greater success.
The Amor y Pasion tour unveiled the sultry melodic flavors of Spain, Cuba, Argentina, and Mexico. It sold 5,000 copies in America and reached the number-one position on the Latin Albums Chart in the first week. Substantial demand for their music precipitated a spectacular encore tour in 2016, consisting of concerts which highlighted several new songs in Spanish, as well as Spanish reinterpretation of English pieces. As the band members themselves claim, "Spanish is the language of romanticism." IL Divo's appearances stunned ravenous crowds, selling out 78 shows in the Middle East, Asia, Europe, and America, and also included a new feature dancing! Audience members especially enjoyed the vocalists' humor and informality while displaying the band's diversity and extraordinary talent.
The group members are uniquely charming. The self-proclaimed flirt of the foursome, Carlos Marin, frequents nightclubs and resides in South America, "where taxes are low, and the women are beautiful!" Urs Buhler also enjoys his friends and the ladies, especially those close to the act – he wed one of his dancers and shares a daughter with his makeup artist. Sebastien Izambard is the family man of the group; married with children, he promotes noteworthy charities for youth. Sebastien shares the title of "sensitive" with Miller, who lives in Manhattan with his opera-singer wife and dog. The four stars sincerely cherish their time both on- and off-stage; although their home lives, nationalities, and musical styles differ, their passion for the craft has made IL Divo the best multinational classical crossover group in history. Surely, their 2022 tours will afford their fans the opportunity to experience the divinity of pure incandescent passion.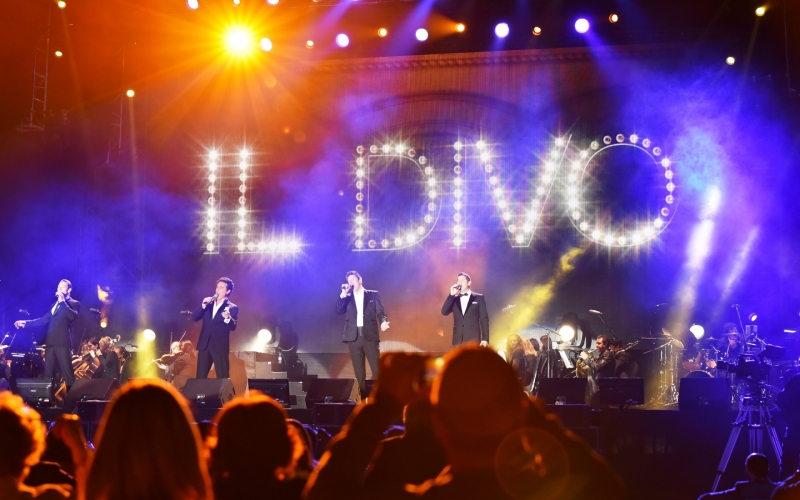 Watch Video: IL Divo...The Divinity of Pure Incandescent Passion
Let's Get Social...Share this Article with a Friend