By: Jeffrey Steele / Photographs Courtesy of 432 Park Avenue
Time was when Manhattan's most elegant living was reserved solely for the east side of the park. Then the blocks to the west emerged as the new hallowed ground of the rich and famous. Best exemplified by the grandeur of 15 Central Park West, immortalized in the 2014 Michael Gross bestseller House of Outrageous Fortune, this new western frontier lured moneyed buyers from the worlds of sport, entertainment, and technology. But with the recent unveiling of 432 Park Avenue, the East Side has once more captured bragging rights to New York City's most coveted residences. Standing 88 stories and nearly 1,400 feet in height, 432 Park is the tallest all-residential building in the world. In its exquisite finishes and features, its unsurpassed amenity suite, and its price tags approaching $83 million, 432 Park serves notice it's captured the crown as New York City's most impressive residence.
The towering Rafael Vinoly creation at 432 Park Avenue has fittingly proven a lightning rod of sorts. Easily the highest-altitude structure for blocks around, the slim newcomer has drawn both kudos and criticism. One element of the design attracting unanimous acclaim is the stunning work of interior designer Kelly Behun. Not every design pro gets to leave her mark on one of the city's most elite residences. But then, Behun is anything but a typical interior designer. Daughter of a first-generation Czech father and an Irish mother, Behun was raised in Pittsburgh, attended the University of Pennsylvania's Wharton School of Business, and for a short while worked the securities trading floor for Salomon Brothers. A career shift led to a design apprenticeship for hotelier Ian Schrager, then to creating designs for the likes of Ivanka Trump, and eventually to imprinting 432 Park with her own indelible stamp.
Behun's work in the 432 Park Avenue penthouse showcases her characteristically modernist design touches. Among them are her beautifully understated infusion of art and objects, her preference for warm "human and humane" materials, her fondness for lighter-colored palettes, and her desire to create spaces that spark emotional feeling. It is this subtle and sincere tug on the emotions that is the most noteworthy hallmark of Behun's work. Through the ingenious mix of textures in her fabrics and furnishes, as well as the placement of objects d'art, Behun has crafted a tranquil, sunny bird's nest from which to contemplate the majestic tableau served up from the apartment's enormous windows. For furnishings, accessories, and lighting, Behun turned to her Big Apple counterparts, assembling a collection that murmurs of the world-class greatness of New York City's design community. As Behun herself has said, "It's very special."
Heavenly inversion: Among the many singularly spectacular aspects of the Behun-designed penthouse apartment, 928 at 432 Park Avenue is the way the spaces subtly change throughout the day and evening. The gradual transition, Behun has said, is highly "cinematic." Through a sunlit morning and afternoon, the apartment is infused with a glorious white light. But as the sun sets, the master bedroom is bathed in a breathtaking golden amber hue, its richness deepened by the simple yet elegant materials Behun has chosen to adorn the space. As a glorious sunset slowly surrenders to the night sky, lights twinkle on across the cityscape below, and it appears the starry heavens above have been spread out like a twinkling blanket at the viewer's feet. Sitting in one of the many window seats and watching the city come to life in this way, Behun says, is nothing short of magical.
The spectacular structure that is 432 Park Avenue was designed to deliver its residents a serene escape from the mile-a-minute world swirling about them. Once cozily nestled within its walls, owners have no reason on earth to leave the super-tall, stunningly slender tower. All they might ever need is at their command. A state-of-the-art fitness center, 24-carat spa, and a private restaurant open only to residents and their guests, governed by a Michelin-starred chef, only begin to hint at the full scope of 432 Park's amenity suite. Also available to meet residents' slightest whims are a two-lane, 75-foot indoor pool with Jacuzzi, yoga studio, billiards room, boardroom, library, and 18-seat theater room boasting a 220-inch screen. The best amenity of all, however, maybe the cache instantly conferred upon those able to foot the bill for a residence at what is, for at least the time being, Gotham's toniest address.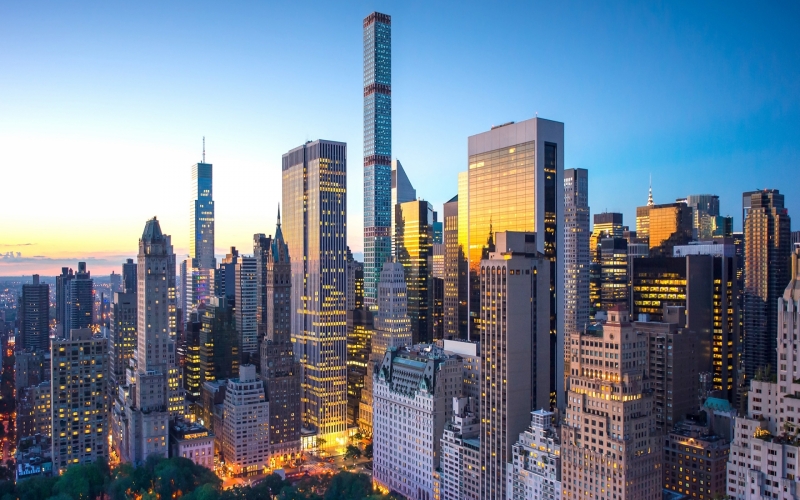 Watch Video: 432 Park Avenue and the Staggering Zenith of Kelly Behun
Let's Get Social...Share this Article with a Friend