By: Daniel Evon / Photographs Courtesy of Castello di Casole
Castello di Casole and its 5,500 acres of olive groves and lush landscape create the quintessential Tuscan image. No wonder this region of central Italy, with Florence as its capital, is the birthplace of the Italian Renaissance. The rich variety of colors, nature, and architecture has been captured thousands of times in paintings and photographs, so visitors feel they are in a place comfortable and familiar. The grounds are designed with breathtaking vistas of tiers and rows to reflect the region's roots in wines such as Chianti, Vino Noble di Montepulciano, and Brunello di Montalcino. On multiple sides, the villa is flanked – almost guarded – by sentinel-like Tuscan Cypress trees, tall and coiffed by nature's winds for generations. Castello di Casole with its breathtaking majesty, is truly a Thousand-Year-Old Tuscan Masterpiece.
The estate's namesake, the nearby village of Casole d'Elsa, was originally an Etruscan settlement dating from around 800 BC. There are also other historic sites and villages, all within a short ride or walk from the Villa, and guests are provided complimentary transportation if needed. The Castello di Casole has known many owners and residents since its history began, starting with an aristocratic family from Siena and then during the late twentieth century, the property was owned by famed Italian cinema director Luchino Visconti, who entertained European and Hollywood celebrities throughout the estate. The theme of clean lines and open spaces are pronounced as guests first drive up to the Villa while there is a great sense of peace within the walls that have withstood centuries of nature's best and worst.
The villa is now a 41-suite boutique hotel, offering the kind of amenities one expects at the most luxurious venues. The property also features private villas, each with its own tile-lined pool. The suites are wide and roomy, with exposed wooden beams, curved archways, and enough chairs and sofas to entertain a large family. There is also plenty of pampering by the courteous and attentive staff. A typical four-night package includes a welcome drink, daily breakfast (including, naturally, homemade Tuscan pastries and sweets). That's just for starters.
The villa's on-site fitness and exercise center offer a number of massages treatments designed to pamper and relax. You'll also enjoy yoga or Pilates class for two, a 50-minute massage at Essere Spa, and a 50-minute manicure or pedicure for two. For the more active days, the package includes a 3-hour guided bike tours down tree-lined paths and thru the Tuscan countryside. All guests can stroll the grounds to their healthy heart's delight, walking down timeless pathways through vineyards and past ancient walls of hand-hewn stone. For guests who want to soak, splash or swim, the Terrace Pool awaits to one side of the villa. The heated pool is ideal for those who want to swim laps or just relax in the warm water. Adjacent saunas and steam rooms are the perfect complements to guests who want to purify and unwind.
By far, fall is the best time of year to visit Tuscany. Guests and residents of Castello di Casole can take part in a rare hands-on opportunity to take part in picking olives and grapes. Another seasonal activity that's a favorite of guests and residents alike is the annual hunt for truffles and mushrooms. For guests, the villa staff provides top-drawer amenities found only at the best hotels and resorts on the Continent. These services include a bilingual concierge who will assist in arranging guided tours of Tuscany or anywhere in Italy, dining and golf reservations, and planning family activities anywhere in the country. There is daily housekeeping, in-room Internet access, 24-hour room service, pay-for-view movies, in-room water, and soft drinks from the minibar and valet parking.
For an extra fee, the villa will also arrange for private airport transportation, special events such as a sommelier-led wine tasting and chef-prepared cuisine. Guests also enjoy horseback riding, gourmet hand-packed picnic lunches, guided tours, and wine tasting at nearby vineyards, personal fitness trainers, personal shoppers, and in-suite massages. For guests wanting to learn while they relax, the villa offers cooking, art, language, and ceramics classes. Whatever the options, generations of visitors have reached the same consensus: Castello di Casole fits perfectly in the heart of Tuscany. The blend of history, culture, fine dining, and a myriad of activities gives guests a sense there isn't enough time to enjoy all of life's choices while staying at this thousand-year-old Tuscan masterpiece. Bellissimo!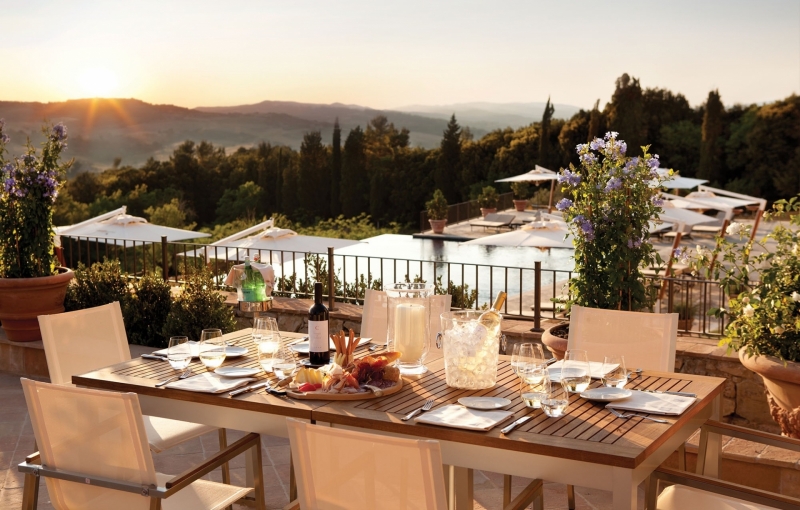 Watch Video: Castello di Casole, Alfresco Dining
Let's Get Social...Share this Article with a Friend