By: Jeffrey Steele / Photographs Courtesy of Holland & Holland
London-based gunmaker Holland & Holland has been acclaimed since 1835 as the world's very finest manufacturer of firearms. Founder Harris Holland, a tobacconist by trade, established the company to produce his own shooting arms. He was later joined by his nephew and eventual partner, Henry William Holland, crystallizing the Holland & Holland name. The two shepherded the company to international renown during the 19th Century's second half, honing a reputation for unrivaled craftsmanship. That renown laid the foundation for the company's later metamorphosis into a globally respected luxury goods brand. Almost two centuries after its founding, the iconic British gun maker takes its cue from the exceptional realm of fine Swiss watchmaking. Painstakingly monitoring quality by handcrafting all components in its own factory, the firm produces a small quantity of beautifully adorned, consummately balanced firearms each year.
Shooting experts have long regarded British firearms as the highest-quality guns on the face of the globe. Little wonder the Wertheimer family elected in 1989 to acquire Holland & Holland, viewing the firm as the preeminent entry among all British firearms makers. Adding this history-steeped conquest to its esteemed Chanel Group, the family invested generously in up-to-the-minute engineering to complement the time-honored manufacturing techniques that for centuries have marked the Holland & Holland brand. Despite a years-long waiting list for its products, a factory working at full capacity, and a price tag that can easily generate five-figure proceeds on each sale, the company continues its highly-admired tradition of producing no more than a few dozen firearms annually. Each gun and rifle manufactured benefits from Holland & Holland's resolute dedication to marrying precision machining and artistic hand craftsmanship.
Holland & Holland's technical advisor Patrick Murphy invariably refers to the company's five-story manufacturing plant in one of London's northwest suburbs as "our new factory." That the facility was, in fact, constructed during Victorian times only adds to the company's history-rich mystique. Holland & Holland's first factory was built in 1893, only to be replaced two years later by the structure the company continues to occupy one and one-quarter centuries later. The company's quality is so outstanding that hundreds of Holland & Holland firearms born in this factory's confines continue operating perfectly, having been shot tens of thousands of times over more than a dozen decades. Pictured above is a fitting exemplar of Holland & Holland's celebrated artistry, fully evident in a firearm once owned by none other than the Maharaja Raja Sir Amar Singh Bahadur.
The Maharaja firearm's chain of custody is among the most riveting of all Holland & Holland legends. And that's only right. As last ruling Maharaja of the princely state of Jammu and Kashmir in India, Raja Sir Amar Singh Bahadur was a prime candidate to author Holland & Holland lore. An ardent big game hunter, the Maharaja, would own a number of the company's rifles, starting with his 1926 acquisition of a .240 Royal and continuing through many purchases in the years following. About 15 years ago, Holland & Holland reacquired the .240 Royal once owned by the Maharaja at an Indian auction and carrying it home to Great Britain. The company fitted a new telescope, case hardened the rifle, and furnished a lightweight case. The result? A rifle in excellent condition with original 14.5-inch stock length and without a recoil pad, unusual in an Indian firearm.
When you acquire a Bespoke Holland & Holland firearm, you can be certain of this. You are making an investment in a treasure destined to be a prized family heirloom. Unlike other heirlooms, however, this one won't be tucked away to gather dust. It will be used and enjoyed by children and grandchildren and subsequent generations. The peerless quality of Holland & Holland firearms is reflected in the National Firearms Museum image above, depicting the company's 600 NE Double Rifle. Featuring exquisite relief engraving by the late artist Phillippe Grifnee, who worked exclusively for Holland & Holland during the 1990s, the rifle depicts the superb artistry that won Grifnee his fame. Among the finest hunting guns to come from the Holland & Holland factory, this firearm is displayed at the National Sporting Arms Museum as a fitting tribute to the company's unchallenged spot atop the list of the world's greatest firearms makers.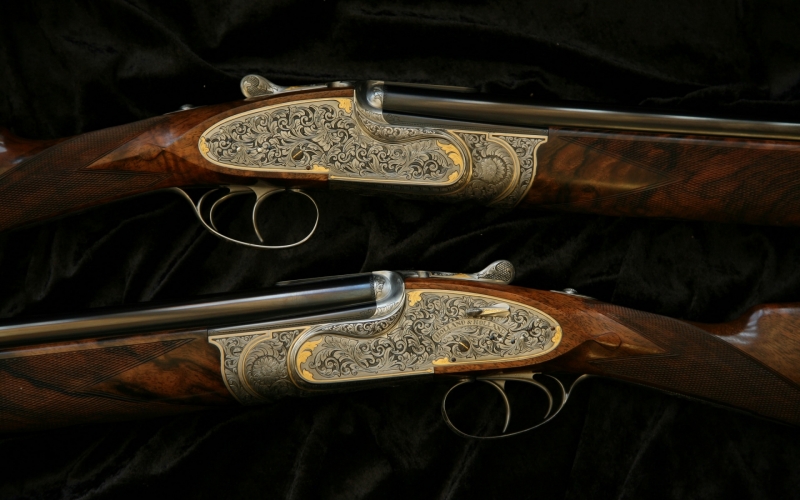 Watch Video: Holland & Holland
Let's Get Social...Share this Article with a Friend