By: Susannah Cord
He has been called The Dark Prince of Luxury and is almost as well known for his leather-clad dress code as his work, a unique blend of architecture and design that Forbes says "…reflects his voluminous understanding of art, architecture and high fashion." He is said to have reinvented the modern concept of luxury by ascribing equal importance to architecture and interior design while being considered one of fashion's top 100 influentials. His art collection is the stuff of legend, and his work may be seen all over the globe, from Tokyo to Paris, London to New York, and down Rodeo Drive. His office has run out of flags for the world map that keeps track of his projects. But deep down, Peter Marino, "Architect, Design Visionary and Bon Vivant Extraordinaire," considered as accomplished an architect as decorator, is just a self-described precocious kid from Queens with a passion for painting and a penchant for motorcycles.
Born in 1949, a childhood disease deprived the young Marino of the ability to walk until he was seven, allowing the power of the pencil to take him places only his imagination could go. Drawing, an early passion that never waned, was honed on visits to his engineering father's office where he learned to draft, while his love of all things art was fostered by piano lessons and extra hours of art study in high school. Choosing to attend Cornell due to the excellent art program, Marino would be one of the last students to enjoy Cornell's practice of visits to the great art studios of the time, a practice lost to the student revolutions of 1969. Spending his college summers and first professional years at Skidmore, Owings and Merrill, the company that famously invented curtain walls, he learned his trade from the ground up, including how to organize an office.
That skill stood him in good stead upon opening his firm, Peter Marino Architect PLLC, in 1978 at the age of 28. College years of eating burgers while admiring pretty waitresses at Max's Kansas City, the renowned New York City artist's hangout, led to a meeting with legendary painter Andy Warhol and Marino's first big break. Renovating Warhol's home swiftly led to resounding success, working for an elite crowd that appreciated Marino's unique sense of flair, even when just applied to their townhouse. A project for Chanel saw Marino segueing into luxury stores, where his belief that 'the power of light is paramount' inspired the introduction of natural light to boutiques. An ongoing affair, Marino's love of light was in play again in his recent renovation of the Bulgari New York flagship, where he drew on Bulgari's Roman heritage, employing hues of apricot and gold to replicate the warm afternoon sun playing across Rome's gilded rooftops.
This fascination with light points to an odd dichotomy astir between the image and work of the man who calls himself an Art Architect. His skintight black leather ensembles belie the man within that seeks always to let in the sun, admits to extreme claustrophobia, and declares himself "…a fighter against modernism equaling brutalism." His most recent collaboration with Murano glass-blower, Venini defied custom, resulting in heavy glass pieces meant to be as much art as utilitarian. In soft romantic colors designed to complement the green of fresh stems, while struck through with a band of Marino's signature black, the vases were yet another project in glass for the Venice loving Marino, but perhaps the result was that most reflective to date of the man himself. Certainly his sense of style may not be counted upon to define Marino. Calling it a decoy, Marino considers it simply thinking outside of the box.
Marino's commitment to the avant-garde has served him well, earning him numerous awards and a devoted clientele among the global elite as he travels the world, renovating a host of luxury-defining homes and shops. As a collector, he has a reputation for buying with his heart, creating a lasting legacy in a vast art collection of French porcelain, paintings, and bronze sculptures. Marino was named a Chevalier de l'Ordre des Arts et des Lettres by the French Ministry of Culture while simultaneously considered a reflection of the 'brute commercial power' of luxury shopping. At times affecting a British accent or referring to himself as The Pedro, Marino is a man of many talents and lasting passions, not least of which is his flair for self-promotion. Between the bookends of the soulful artist and the hardcore biker rests a many-layered man, an architect, a design visionary, and the bon vivant extraordinaire, for whom true style means a life well and passionately lived.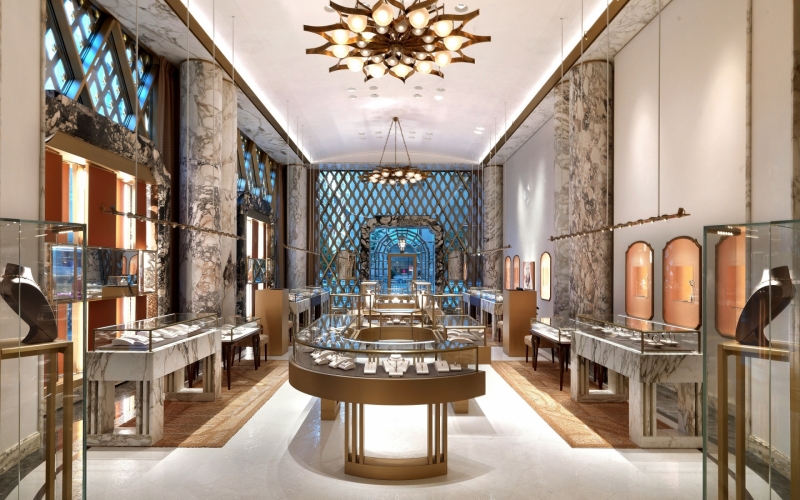 Watch Video: Peter Marino...Architect, Design Visionary and Bon Vivant Extraordinaire
Let's Get Social...Share this Article with a Friend