By: Skye Sherman
When one arrives in Prague, "the city of one hundred spires," it is a bit like stepping back in time; the Vltava River strolls through the town, creating miles of picturesque waterfront and scenes right out of a childhood storybook. There are cobblestone streets, historic facades, and crowds of people taking to the city by foot and bicycle. Perhaps they're off to the Old Town Square for a cinnamon-dusted trdelník from a street vendor, or maybe they're leisurely strolling to enjoy the temperate climate of early summer. Whatever the case, in Prague, the hustle and bustle of the twenty-first century seem to vanish. What I found on my recent trip was a maze of streets lined with shop owners and bespoke establishments, a sepia-toned color palette reminiscent of an old photograph from the times of Franz Kafka. Although under Prague's magical spell, I could hear Classical melodies wafting from the open windows along the way, I found that getting lost among the narrow alleyways was not an inconvenience, but an adventure, a gift I shall never forget.
The capital and shining star of the Czech Republic has long been a political and cultural hub of central Europe. It was once the capital of the kingdom of Bohemia and home to multiple Holy Roman Emperors, including Charles IV. As time went on, Prague played an integral part in major world-shifting events, including the Protestant Reformation and the Thirty Years' War. With its rich history, Prague has not fallen behind when it comes to contemporary luxury and modern sensibilities. This was evident throughout the city and became profound as I experienced the gracious staff and stunning interior of the Boscolo Prague, a five-star neoclassical hotel. The world-famous establishment features a cavernous underground spa with a pool spanning over 65 feet, a cigar bar built into a 19th-century bank vault, and expansive suites. It is a haven located just a short walking distance from many of the old cities' most popular attractions.
More than thirty bridges and footbridges cross the Vltava River in Prague, but the Charles Bridge is most famous. Constructed in the 1300s, Charles Bridge has long been an icon of the city; it was the only way to cross the river up until 1841, making it an essential thoroughfare between Prague Castle and the heart of the town. It also helped establish Prague as a vital trade route connecting Western and Eastern Europe during its long history. Today, you'll find the Charles dotted with statues and offering one of the best views of the entire city. If you do nothing else during your time in Prague, take a walk along this fabled Bridge to experience the allure of times gone by while mingling with the energy of people today.
Prague's Old Town Square is a hotspot for tourists. It draws crowds with its medieval architecture, food stalls, street performers, and the famously intricate Astronomical Clock, which is still in working order today. While the square certainly deserves a visit, I found myself drawn to wander away from the crowds, down side streets and alleyways, all the while stumbling across hidden gems. From the breathtaking stained glass of St. Vitus Cathedral to the spunky Jewish Quarter, I've found it to be a rule of travel that the most memorable experiences often occur just a short distance away from wherever the tourists converge. After days spent exploring, I was happy to discover that Prague has no shortage of edgy bistros, lively bars, and fine dining establishments, including the renowned Bellevue. There are numerous white table-cloth restaurants tucked into quiet corners serving the national dish "knedliky" consisting of pork or beef meat with sauce and a side dish.
Magic comes from the unexpected, and my enchanting time in this beer-soaked architectural marvel revealed to me that Prague exudes a surprising but undeniable charm. It's like you are being transported by its classical outdoor cafés and glimmering lights to a simpler time when composers Antonin Dvorak and Bedrich Smetana were the rock stars of the day. It was then that life centered around savoring the simple pleasures, like hearing the notes of a lute winding curiously through the streets or breathing in the aroma of freshly baked pastries. Prague is the city of music, love, and romance; it is here that you can gaze upon the majesty of these classical spires, from the Charles, take in the Vltava encircling a city of intrigue, or ponder those who have traversed these streets before you. One thing is sure; you'll sense that you've been taken back to another time, all the while thinking of a thousand reasons to return and begin again.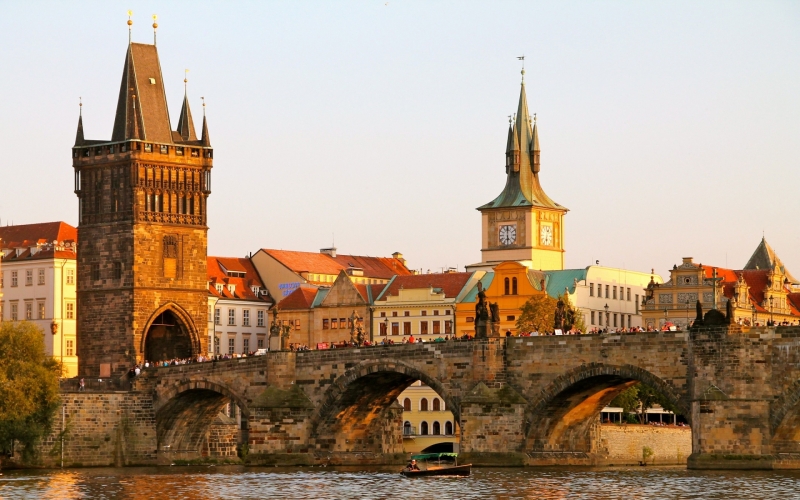 Watch Video: Prague...City of Music, Love and Romance
Let's Get Social...Share this Article with a Friend