By: Sarah Louise Klose
Tom Ford -- fashion designer, film producer, creative force -- was born in the heart of Texas in 1961 and shaped by his teen years in the soft desert palette of New Mexico. Ford has an exacting eye for detail, aims for aesthetically pleasing appearances, and drives toward artistic perfection. A man who prefers a monochromatic look, Ford grew up fascinated by design and spent part of his youth rearranging the family's furniture. His real estate agent parents encouraged him to pursue his passions, so he studied at NYU, acted in commercials, and enrolled in architecture at Parsons School of Design. Ford shifted his interest to fashion after interning at Chloe in Paris and sketched at Cathy Hardwick despite having little fashion knowledge. While in New York, the ever-creative Ford observed glamorous disco dancers at Studio 54, which would ultimately influence his future clothing designs.
In 1990, to immerse himself in European style, Tom Ford arrived at Gucci, the failing Italian label facing financial hardship, here he quickly rose to design director handling menswear, fragrance, shoes, and more. He leapfrogged to Creative Director at age thirty-two and introduced the velvet hipsters and open-neck satin shirts that shifted the direction of Italian fashion. Ever the innovator, Ford hired top fashion photographers and stylists to launch sexy ad campaigns. By 1999, Gucci had skyrocketed from the brink of bankruptcy to a four billion dollar luxury conglomerate, with influence to rival LVMH. After Gucci acquired Yves Saint Laurent, Ford transformed it into a name brand and won numerous CFDA awards for his groundbreaking designs. In the wake of the 2004 Pinault family's buyout of Gucci, Ford departed the international fashion powerhouse with two hundred and fifty million in stock options.
With his finger on the pulse of fashion, the visionary launched his own Tom Ford line of debonair luxury clothing two years after leaving Gucci. His ideal customer is the well-traveled urban male with disposable income and the strong, intelligent female with a high degree of fashion savvy. Under his label, the charismatic designer created runway styles, fragrances, and bold sunglasses. His successful Zegna brand shirts are unique, with five sleeve cuff buttons and a long buttonhole on the lapel. His personal style veers toward black suits, pocket squares, and diamond cufflinks. Ford has created looks as varied as Daniel Craig's suits for James Bond films, ivory evening gowns for Michelle Obama, and music video costumes at the vanguard for Jay-Z. With design studios in London and Los Angeles, and his brand on track to achieve over two billion in retail sales for 2018, Ford is striving for global dominance and aims to become one of the top five luxury brands.
Parlaying his fashion experience into film, Tom Ford self-financed and directed his first movie, A Single Man. Colin Firth won an Oscar nomination for playing an impeccably dressed man (in Saville suits) who feels empty after his long-time male lover dies. Julianne Moore plays the lusciously coiffed alcoholic female friend who offers sympathy over elegant dinners. The 2009 film stuns with its art direction and enchanting visuals, from quivering splashes of water to an overturned car languishing in the snow. Ford followed this with the 2016 pulse-pounding thriller Nocturnal Animals, about a divorced art gallery owner (Amy Adams) spooked by her ex-husband (Jake Gyllenhaal), who is writing a novel based on their relationship. The film's cinematic splendor and stylish shots earned it nine BAFTA nominations, the Grand Jury Prize at the Venice Film Festival, and two Golden Globe nominations for Tom Ford as Best Director and Screenplay.
From movies to apparel, Ford sells opulence and sensuality -- at New York Fashion Week, his sequined jackets and animal print coats dazzled with a coolness of style. Womenswear comprises 30% of his apparel revenue, and his beauty and fragrance products generated five hundred million in 2017. Ford has revolutionized branding with his marketing genius while incurring controversy over his provocative advertising as a recent New York Times story alleges prominent fashion photographers sexually exploited male models. Ford said while he was not present for the photoshoot, he's sympathetic to those who've been sexually harassed. While the Tom Ford company continues to create stunning luxury style, Ford in his private life lives with his husband, fashion journalist Richard Buckley, and son Jack, age 5, in their Milan, Los Angeles, London homes, and 24,000 acre Santa Fe ranch. Ford owns 63.75% of company shares and has 49 freestanding shops, including Osaka, San Paolo, and Zurich locations. The man, the myth, the legend remains at the forefront and continues to influence Contemporary Culture.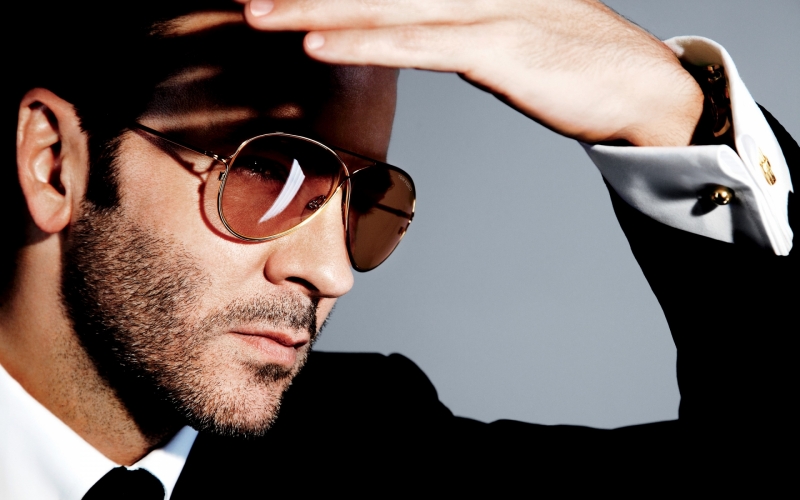 Watch Video: Tom Ford... Influencing Contemporary Culture with Brilliant Marketing
Let's Get Social...Share this Article with a Friend