By: Jeffery Steele / Photographs Courtesy of Castiglion del Bosco
For those intrigued with sampling the sublime flavors of Tuscany, nothing but the genuine article will suffice. And what could be more authentic than an honest-to-goodness Medieval Tuscan village? That's the setting Massimo Ferragamo, of the legendary Ferragamo fashion family, has transformed into his world-class resort, Castiglion del Bosco, a Rosewood Resort. This quaint and charming borgo, little changed over eight centuries, sprawls across some 5,000 stunning acres, serving up majestic perspectives on the Tuscan countryside and affording spectacular views of unforgettable sunsets. It is dotted with vineyards, olive groves, 17th and 18th Century farmhouses, and the ruins of a fairy-tale-like, centuries-old castle. Hiking and running paths ribbon for miles through densely wooded forests of the Val d'Orcia. Little wonder this is the only property in all of Italy to earn the coveted Rosewood imprimatur.
As guests luxuriate in villas and suites unique in all the world, visitors to Castiglion del Bosco immediately comprehend why this luxury resort is simply incomparable. Some villas are nestled in forests; others are perched above vineyards, and still, others overlook the castle ruins. Each boasts a heated, natural stone pool, a fully-outfitted kitchen, pergola-sheltered barbecue terrace, and meticulously manicured lawns and gardens. Though the villas are all uniquely different from one another, they share a consistently inviting ambiance honed from the exquisite textures and colors of the region. Rich palettes reflect the vibrant, resonant hues of the surrounding Sienese countryside. Antiques, natural fabrics, and the hand-wrought furniture fashioned by local artisans convey the legacy of care and craftsmanship synonymous with this age-old land. The result is a sumptuous setting as warmly welcoming and agreeable as it is difficult to imagine leaving behind.
The wines of Tuscany are honored across the globe, and at Castiglion del Bosco, visitors can partake of a world-class education in the fine art and science of Tuscan winemaking. The time-honored Castiglion del Bosco winery is the fifth largest producer of Brunello di Montalcino in the world, and for a good reason. The rocky soils of the northwest quadrant of Montalcino, where Castiglion del Bosco is situated, are ideal for producing complex and richly intense wines that bear the internationally-renowned Brunello di Montalcino signature. Visitors to Castiglion del Bosco can tour the vineyards, cellar, and aging room, attend wine tastings and seminars and participate in an annual September harvest event. By the time they depart Tuscany, they've not only savored some of the world's most celebrated wines. They have also been enriched by fascinating insights into one of the most sophisticated wine programs in the history of humankind.
After a wonderful day of golf, one might ask, is it possible within this already eminently relaxing and revivifying environment to experience even greater serenity and rejuvenation? Yes indeed! A visit to the spa at Castiglion Del Bosco, situated in the village's one-time wine cellar, is like discovering a sanctuary from the hustle and bustle of the everyday world. In this intimate retreat, decorated in natural earth tones, a sauna, steam bath, relaxation area, and vibrant green garden serve to transport the weary traveler to a state of complete inner peace. The decorative linear rhythms of the sensory experience are ever-present, and even the natural body care products used in the spa are inspired by southern Tuscany's agricultural cornucopia. Once provided a revitalizing spa experience, visitors often partake of any number of guided excursions carefully delineated to highlight gastronomic, cultural, historical, and artistic experiences throughout the region – each more fascinating and enjoyable than the next.rn
Credits: Wedding Videographer Marco Abba and Wedding Photographer Jules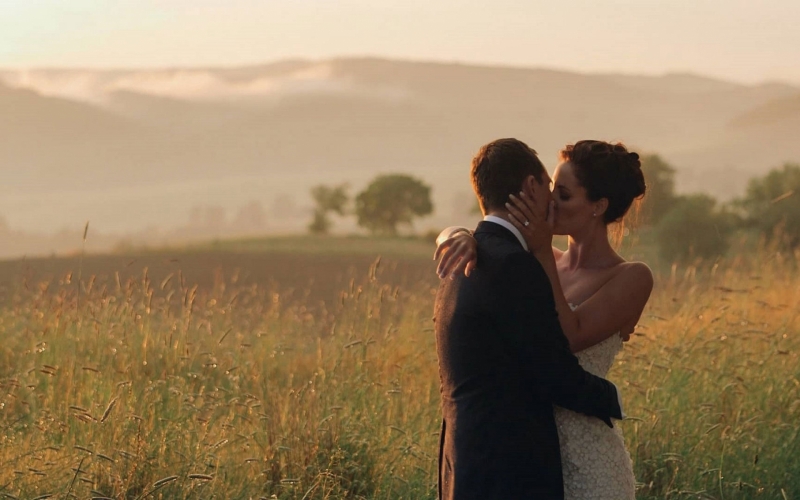 A wedding is a once-in-a-lifetime event. The cherished exchange of eternal marital vows demands a destination wedding every bit as extraordinary. That is precisely what those eagerly anticipating lives together experience when they select Castiglion del Bosco as the elegantly romantic backdrop for their unforgettable day. Imagine welcoming your wedding guests into this awe-inspiring Tuscan setting, walking down the aisle within the tradition-steeped church of San Michel Arcangelo, with its frescoes from Pietro Lorenzetti, and hosting a reception where the Old World splendor is matched only by the astounding panorama of landscape, forest, and vineyards surrounding you. It can be yours, enhanced, of course, by an unsparing attention to detail and service in perfect harmony with the dream tableau in which your ceremony unfolds. Whether visiting the region for a romantic getaway, family vacation, destination wedding, wine-tasting excursion, or simply a revivifying break from the ordinary, Castiglion del Bosco and the Magic of Tuscany is a most enchanting and memorable experience under the Tuscan sun.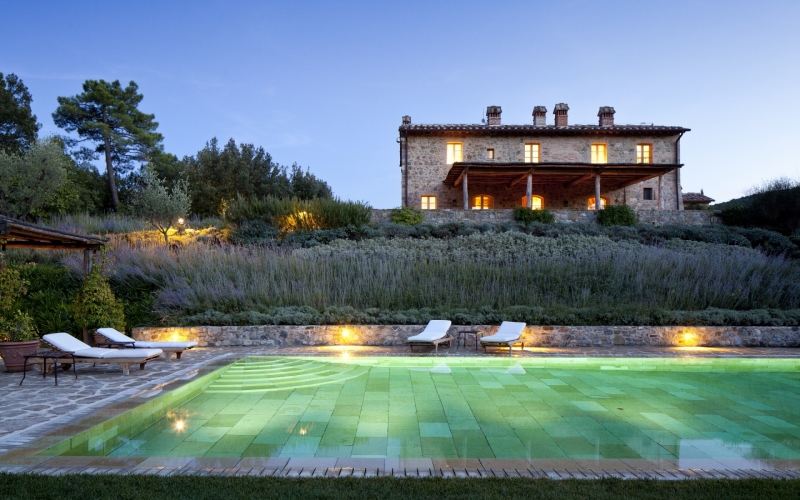 Watch Video: Castiglion del Bosco and the Magic of Tuscany
Let's Get Social...Share this Article with a Friend