By: Tom Oliver / Photographs Courtesy of Overblue
Italian yacht maker Raffaele Grotti is a modern-day alchemist who has managed to turn water into wine...well, okay, maybe not, but he has achieved the magical transformation of Houseboat and Catamaran into a fantastic new concept. Overblue is a dramatic new sea-change that may be hard to categorize - but, without question, it's all about luxury lifestyle. Grotti and the Overblue team imagine this houseboat-yacht as competition not just to other pleasure boats but also to living spaces on land. Stylish and well-appointed, the Overblue 2022 Line will let you take everything on your next cruise – including a full-size custom kitchen.
The customizable flybridge on Overblue reminds all that this is a superyacht, and a custom high-end Italian one, at that. A Jacuzzi is part of the mandatory decadence you'd expect, and the open lounge can accommodate parties and functions. With a deck stacked like this, it's really no wonder Overblue impressed at the Cannes Boat Show debut in September 2015 and wowed the crowds again a year later at the Monaco Yacht show.
The dual Volvo engines – two 75hp motors for the 44' Overblue and twin 350hp motors for the 54' version - will move you at very respectable speeds but won't cost you an arm and a leg in fuel costs (catamaran hulls = smaller engines). Though well equipped with power, the Overblue has a sleek and modern exterior with a full second-floor deck that is a real attention-getter. But that is only part of this yacht's charm, as the interior volume allows for comfort and spaciousness. Its twin-hull construction brings stability and allows maximum acceleration when desired while it has an impressive range of 1,000 miles. Solar panels help make this house-yacht environmentally friendly, and this covered area will ward off rays when you're done tanning.
The Overblue is not just an alternative to houseboats or catamarans – it can be a home whose dramatic design makes it a rival to custom interiors or posh luxury cribs worldwide. Forget about the smaller-than-average living areas that most other yachts offer; this large yacht has a master stateroom featuring a king-size bed with a roomy bathroom attached and walk-in closets throughout. The modern kitchen has upscale appliance brands right out of designer magazines. Even the fridge is large, and when it comes to ceiling height, you won't ever hit your head, as standing room is never lower than two meters. Likewise, the tables, the sofa – all regular size because this is a houseboat with an open floor plan for living. The Overblue's interior can be tailored to your specific needs; a monitoring system controlling all systems from one screen is standard.
This amalgamation of houseboat & catamaran has made the Luxury Boating market sit up and take notice. The first of Overdue's 64' yachts has been purchased by a customer in Turkey and debuted earlier this year to great fanfare. This decidedly sleek Italian craft would make a wonderful charter-owned vessel for groups and private events or a memory-maker for a sea-loving family on holiday. Luxury cruiser Overblue is a dramatic shift to pure excitement for those who like to think outside the box – and know a little boxiness can sometimes be a good thing!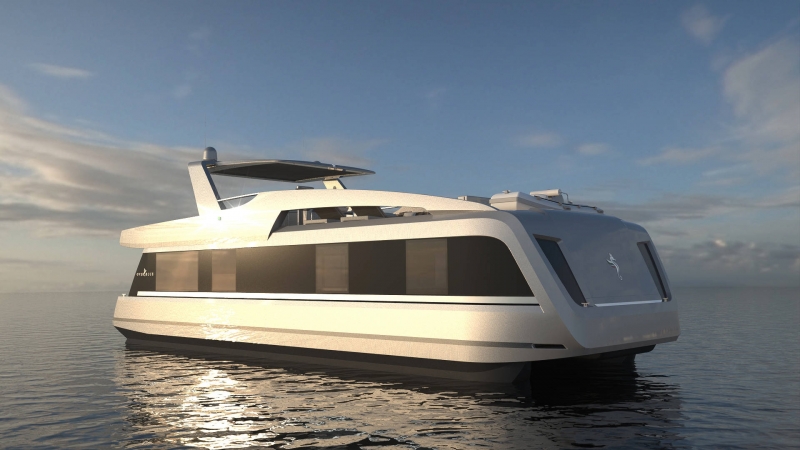 Watch Video: Overblue, The Amalgamation of Houseboat & Catamaran, into Dramatic Luxury
Let's Get Social...Share this Article with a Friend