By: Susannah Cord
There may have been no gripping soundtrack, beautiful blondes or fast camera angles as Constantin von Tischendorf crossed the Sinai Desert, and he may have been more inclined towards top hats than fedoras, but the real life Indiana Jones of the 19th Century was every bit the treasure hunter and scholar that the beloved Indy of Spielberg's imagination was. And while he rode slow camels and not fast horses, and was as German as most of the villains facing Harrison Ford's American, his journey to uncover the world's oldest known Bible was almost as precarious and challenging as those of his celluloid counterpart. But unlike Indiana Jones, Tischendorf's hunt for the ancient text that would become known as the Codex Sinaiticus, came at a heavy cost, spanned decades, and caused an irreparable harm to his reputation that persists to this day.
Born in 1815, the son of a doctor, and a mother whose family remained famous for the daring rescue of a prince some 400 years before, the young Saxon scholar grew into a study in dichotomies. A pious yet adventurous and daring hunter of ancient texts, devoted to proving the veracity of the Bible as the Word of God. A know-it-all dandy, who believed his mission to be holy, who was not above deceiving and stealing to bring home the treasure he discovered. A lifelong biblical scholar considered a forefather of modern bible study yet relegated to a spot barely above a footnote by subsequent academics, Tischendorf persevered where others declared defeat, and succeeded where his predecessors failed. Tischendorf's discovery of ancient manuscripts at Saint Catherine's Monastery in Egypt, cast as much shadow as light on the Bible as the literal Word of God.
This was hardly what young Tischendorf set out to do. As an industrious student with a love of literature, he was both reader and writer as he burned the midnight oil while embracing what would become a lifelong passion. Still a student, he detected the key to a 5th Century bible thought to be indecipherable, and thus began his journey towards fame and infamy. At a time when the Bible had just begun to be called into question as the indisputable Word of God, Tischendorf made it his life's work to prove, through the study of ancient manuscripts, the textual authenticity of the Testaments. It was a quest that would lead him to Egypt, an audience with a Pope, and the collaboration with a Russian Czar that provided him with the funds to finally, after two previous attempts, claim his greatest find, the Codex Sinaiticus.
In 1844, Tischendorf made his first fateful trip to Cairo. Coming up empty-handed in Cairo's bazaars and book stalls, he undertook the grueling thirteen day camel ride to Saint Catherine's Monastery where he claimed to have found the first 129 leaves of damaged parchment in a wastebasket. Allowed to take only 43, it was not until his third attempt in 1859 that he would bribe and barter his way to a deal that allowed him to return triumphant with the remainder of the 400 pages, and a story that would not be believed by all. Containing a third of the Old Testament and all of the New, the manuscript was scribed on cow hides sometime in the mid 4th Century. In all, four scribes from the original Scribe A to the 12th Century Scribe D, had assembled an idiosyncratic sequence of books including apocryphal chapters and some 35,000 edits and corrections.
The Codex Sinaiticus remains the world's oldest known Bible, inspiring generations of scholars to study ancient texts through linguistic methods, and seeking archaic sources in order to ascertain the history of the construction of the Bible. While some, including the monks of Saint Catherine's, have questioned the manner in which Tischendorf acquired the ancient text, others, like author Stanley E. Porter who details Tischendorf's life and discovery in his book, Constantin von Tischendorf, find him above reproach. What is clear, is that Tischendorf lived at a time when modern Bible study was in its' infancy, and helped shape its' evolution with his discoveries and subsequent prolific writings on his research and conclusions. At a time when Egyptomania and the quest for lost treasures and manuscripts was at an all-time high, Tischendorf was that rare combination of scholar and adventurer, a hunter of ancient text, and a real life Indiana Jones.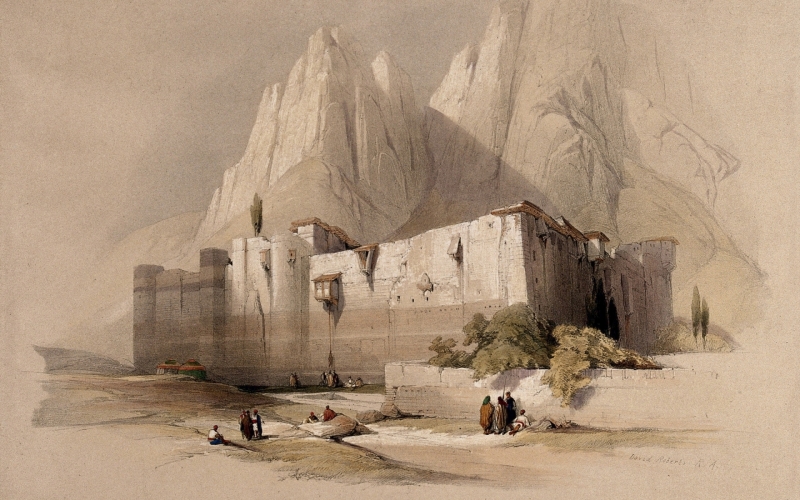 Watch Video: Constantin Tischendorf...Hunter of Ancient Text and A Real Life Indiana Jones
Let's Get Social...Share this Article with a Friend