By: Elaine Masters
There is a Peaceful Heart in the Middle East, and it is the Kingdom of Jordan, a calm haven in a region of war and uprisings. Jordan became a sovereign Arab country in 1949 and has learned to take things in stride and move forward into the 21st-Century. Natural wonders, architectural beauty, historical preservation, adventure travel, and culinary experiences matched with palatial luxuries are more than enough reason to plan several days, if not weeks, exploring the country. However, my first thirty-six hours there convinced me that even ten days was not enough. On arrival in Amman, visitors find that Queen Alia airport is wide open and bright, modern, and easy to navigate, even with jet lag. The first sounds, smells, and the feel of this ancient city imprint swiftly. I remember that the temperatures in October were balmy, the air was dry, and the unfamiliar faces surrounding me were kind and welcoming.
I checked into the elegant Amman Marriott after passing through metal detectors, and from the moment I entered the lobby, comfort and security filled my senses. There were great fountains, gilded mirrors, deep leather couches, and my comfortable room, artfully decorated. After settling in, my small group set out for downtown Souk, the main market street. On our way, we saw a sizeable Roman Amphitheater lit up for Friday night crowds; the ancient structure rose from the busy, modern street featuring a state-of-the-art sound system for special events. As we wandered among families and couples, men in jeans to traditional Thoub robes, the women were elegantly dressed in flowing scarves and long dresses. It was a happy weekend crowd with international visitors, and we felt very comfortable. Finally, we stopped for dinner at Sufra, where a garden was softly lit where they guided us to a long table. In minutes expert waiters filled every space with traditional dishes, Falafel, hummus, fava beans, and tall glasses of icy lemon-mint tea.
Leaving Aman the following morning making our way to Petra, I thought about the Jordan of antiquity. This international trade route saw waves of envious conquerors from the Romans, Ottoman invaders, and more recently during World War I, Lawrence of Arabia. He spent time in the Central Highlands and eastern deserts of Jordan. As we approached the slope of Jabal Al-Madbah, which means the Mountain of the Altar, we stopped briefly for cool glasses of lemon-mint tea and cookies. When we finally reached the top of the mountain over a thousand meters high, we could view our gateway. A narrow staircase carved into the sandstone rock leads visitors down to the valley below, to the Nabataean capital of Raqmu, today known as Petra. This UNESCO site is considered one of the seven man-made wonders of the world, and we were about to find out why.
Be prepared to do some walking as the jewel of Petra, the Al Khazneh, a temple with an ornate, Greek-style facade known as The Treasury, is still not within sight. After an hour of walking into Petra, I finally penetrated the city deep enough to pass through the Siq, an ancient pathway descending into the tall cavernous rocks that will lead me to my destination. We all admire the old water system, the sturdy plants sprouting from stone cliffs far above, a sliver of blue sky is barely visible. The Rock walls echoed with murmuring voices, a horse-drawn carriage rattled past, and then, light shown through in a vertical ribbon, widening with every step. Camels loped slowly by, and finally, the massive carvings of the temple came into view; it still chills me to remember the moment. It is here that the Indiana Jones movie "The Last Crusade" was filmed, and now as I stand in front of the "The Treasury," a colossal, ornately carved sandstone facade, which dates back to the 1st Century AD, I am overwhelmed.
As an ancient trade center, Petra was built to impress. Giants could stand in some of the doorways, builders managed the city water supply, and embellished mountains long before Columbus ever heard of the New World. I walked for hours and often stopped in awe, then pressing on to see as much as possible. I rode a donkey to the heights of the Monastery and trekked steep trails; along the way, I negotiate with a spice merchant. Before leaving the Red City, I mustered the strength and returned to see Petra at night. A light crowd flowed through the Siq, and I found a seat on a low ledge. Candles punctuated the darkness, and traditional music mingled with excited whispers. As my eyes adjusted, a narrator spoke poetically while large trays of sweet sage tea were passed to all. Then the music rose to a crescendo, and bright lights dramatically pushed the night back. Seeing the vast Treasury carvings punctuated by sudden, sharp shadows is unforgettable. My trip to Jordan was utterly fascinating and memorable, to say the least.
Credits: Filmmaker Jeremy Ullmann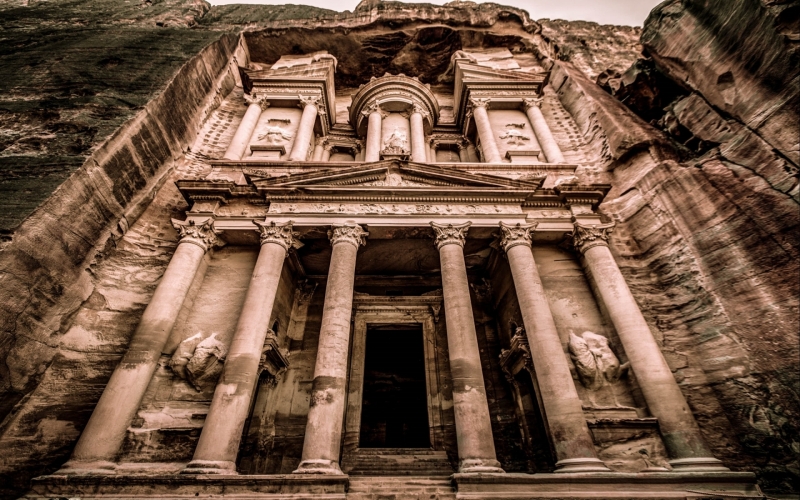 Watch Video: Amman, Jordan and My Journey to the Ancient Ruins of Petra
Let's Get Social...Share this Article with a Friend