By: Brendan Gallagher / Photographs Courtesy of Bentley Motors Limited
The 2022, Bentley Continental GT Convertible is a luxurious and well-appointed tourer that has always been a luxury classic. This open-topped convertible features the enhancements that made the name Bentley world-famous, and few cars are as extravagantly stylish as the new Continental GT Convertible. The car's new design includes pronounced fenders, a stylized front bumper, and slip style rear spoiler, combining in a way that makes the Continental GT look assertive and ready to race. From the purr of its engine to its ability to handle high-speed corners, this award-winning Bentley is a car lover's dream, designed for those who want to be extraordinary.
Like its exterior, the Continental GT's interior is a beautiful blend of luxury and class, swathed in aromatic leather and fine wood veneers. Bentley's designers thought everything through, and each time your behind the wheel reveals a surprising detail, such as expertly knurled control knobs and double-stitched diamond-pattern seat trim. Standard features include keyless entry and ignition, 20-way-power and heated front seats, dual-zone climate control, and a heated leather-wrapped steering wheel. Further, there are front and rear parking sensors with lane assist, rearview camera, lane assist, pedestrian warning with a heads-up display are standard via the Specification packages.
The infotainment display is comprehensive and dominates the lavish center dashboard. Everything is placed well within reach of both driver and passenger. The large 12.3-inch high-res touchscreen will allow the driver to access a wide array of features, including HD Radio, SiriusXM, Wi-Fi, and CD player. The Apple CarPlay and Android Auto enable the driver to manage most of the Continental GT's functions using controls on the steering wheel. The sound system comprises ten Bentley speakers as standard, and your smart devices can be connected using USB ports. Also, a set of SD card slots mean you can play music from your personal library without draining your cell phone battery.
The inside of a Bentley is so heavenly sublime that we wouldn't blame you for spending more time on the road day-tripping than at home. Although the Continental GT technically has seatbelts for four occupants, the rear-seat passengers may feel a little cramped for adults. Despite all the Bentley luxury, only those upfront genuinely enjoy everything this car has to offer. In-cabin storage is equally limited, although there is enough space for a few small items. These areas are accommodated by the front console bin, center armrest cubby, and front door pockets. Both front and the rear seats have a pair of cupholders, too.rn
The Continental GT's allure goes beyond all the bells and whistles and is ultimately found in its performance. This Bentley goes from 0 to 60 in 4.3 seconds and reaches maximum speeds of 192 mph. It's stable, strong, and powerful while handling the sharpest curves and bends with ferociousness and agility. The luxury two-door Convertible almost seems to go on forever, with its extended wheelbase and sleek profile. The new Bentley Continental GT gives its driver the power of a sports car with luxury accommodations. No matter if you're cruising around the Côte d'Azur or motoring along the Pacific Coast Highway in sunny California, the Continental GT is bound to please even the pickiest of drivers. It looks beautiful; its performance is outstanding, and it's got power beyond belief.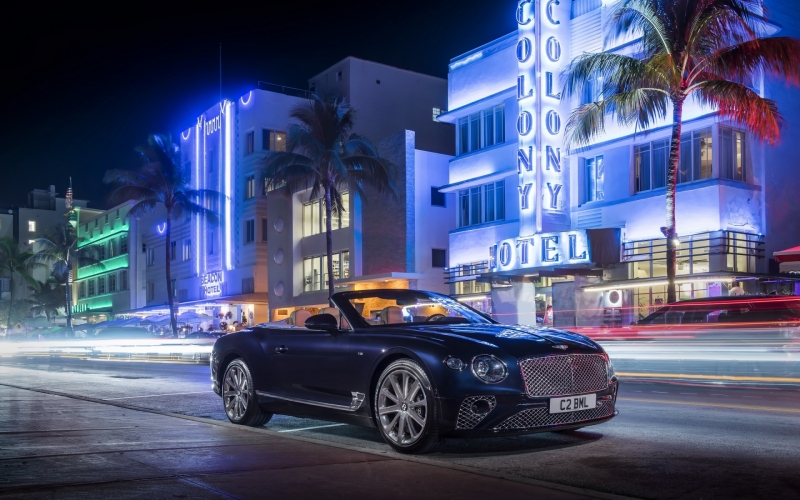 Watch Video: The 2022, Bentley Continental GT Convertible
Let's Get Social...Share this Article with a Friend