By: Jeffrey Steele
Mount Everest. The very name conjures a sense of nearly insurmountable challenge. The peak straddling Nepal and China has for centuries been deemed the most daunting hurdle known to humankind. Given its official English name by the Royal Geographical Society in 1865, Everest has thrilled, tested and thwarted climbers ever since. Along the way, it has sparked mystery and debate, as when George Mallory and Andrew Irvine launched a gallant summit charge on the morning of June 8, 1924. Last observed near the mountain's zenith, the two would later vanish into a cloud bank. No trace would be seen of either for more than three-quarters of a century until the 1999 discovery of Mallory's remains on the North Face. In the 65 years since Hillary and Norgay became the first to the summit and returned to tell the tale, Everest has lost none of its tempting luster.
To term, a triumphant climb to the top of Everest, the peak attainment of a climbing career, is to do the experience an injustice. Reaching the mountain's top – at about the cruising altitude of a passenger jetliner – should be seen as the crowning achievement of anyone's lifetime. After all, so few have summited the fabled mountain. And so, very many have perished attempting the harrowing expedition. Scaling the peak of Mount Everest requires the able assistance of the finest guides in the world. That is precisely the caliber of team members carefully assembled by RMI. Having shepherded small climbing groups up to Everest's pinnacle for close to half a century, RMI is among the world's most celebrated guide services. Its one-to-one climber-to-Sherpa and three-to-one climber-to-guide ratios mean just one thing. RMI offers the sure-footed ability and know-how to guarantee mountaineers an Everest experience they'll savor forever.
To some, simply getting by in life is achievement enough. For others, it's anathema to settle for anything less than acing nature's most grueling tests. From this latter group emerge the finest candidates who have the best chance to summit Everest. Applicants will need every ounce of fortitude they can muster to scale five and a half miles up earth's tallest mountain and reach the iconic knife tip that places them quite literally on top of the world. Of course, more than boldness, courage, and grit is needed to earn climbers acceptance on RMI Everest expeditions. They must also have compiled a world-class resume of mountaineering achievement; gained high-altitude experience surmounting 7,000 to 8,000-meter peaks like Denali, Cho Oyu, and Aconcagua; whipped themselves into the finest condition of their lives; and freed time for an adventure two months in the making. Only when all these conditions are met can they tackle the peak Tibetans call Chomolungma.
If you're among those who have breathlessly absorbed Jon Krakauer's Into Thin Air, you fully grasp the importance of climbing safety on Everest. The New York Times bestseller recounts the author's participation in the ill-fated expedition that took the lives of eight climbers on May 10, 1996, the greatest loss of life on Everest in a single day. No guide service pursues safety more passionately than RMI. Each RMI camp maintains fully-stocked medical kits at the ready, with twin Gamow bags on the peak at all times. RMI's Guides possess exhaustive emergency mountain medical training, and the company's partnership with Himalayan Rescue Associate assures exceptional medical professionals are available if urgent measures are required. Finally, RMI's well-stocked stores of all-important oxygen offer an extra level of assurance should unanticipated hazards materialize.
Climbing to the pinnacle of the world's tallest mountain is not for everyone. For those who prefer to either start "small" or avoid shooting too high, a trek to Everest base camp may be the single best alternative. Nepal's Khumbu Valley, site of the camp, is among the most legendary, historic, and culture-steeped mountainous regions on earth. Across this awesomely craggy tableau spreads landscapes that make for stupendous trekking and climbing. Though expeditions reach only the foot of earth's tallest mountain, those taking part find the feeling as unforgettable as any journey on the planet. Whether a climber's preference is to scale Mount Everest or merely savor the stunning panorama of base camp, he or she is in for one of the most towering experiences of a lifetime.
rn
Melissa Arnot's Record-Breaking Summit of Everest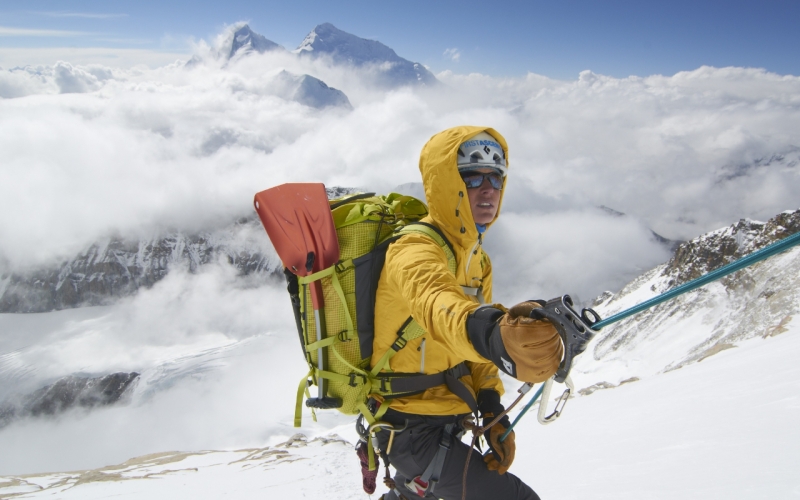 Watch Video: RMI Expeditions...Will Guide You to the Iconic Summit of Mount Everest
Let's Get Social...Share this Article with a Friend