By: Susannah Cord
Gio's Iconic Man of the Decade, British supermodel David Gandy has proven himself more than a handsome face and well-built body. Behind the chiseled cheekbones and piercing blue eyes resides a shy character who dislikes being photographed while appreciating that it provides for his passion for travel, dogs, classic cars, and a finely tailored three-piece suit. Born into a working-class family in Essex, David James Gandy was instilled with equal parts modesty and ambition, qualities that continue to inform his choices. His commitment to charities appears as fierce as his adherence to the principles and morals of a gentleman, while his influence has inspired designers to gravitate towards more masculine standards while shattering the glass ceiling on male model paychecks. Continuing to reinvent the male model paradigm, Gandy may be found blogging for British Vogue, writing car reviews for British GQ, and appearing on behalf of numerous charities.
While grateful for his modeling success, evidenced by titles such as Most Beautiful International Male Face, Gandy remains a man true to his first passions; animals, cars, and immutable morals. Between photo sessions and duties as ambassador for the Jaguar brand, Gandy makes time to blog about fashion, antiques, and lifestyle, as well as reviewing and racing cars. He can often be seen making appearances on behalf of charities such as Battersea Dogs and Cats Home or his own Blue Steel Appeal. A '…proud petrolhead,' according to Gio Journal, Gandy drove a vintage Jaguar in Italy's famous Mille Miglia race – in an impeccably tailored three-piece suit, of course. An event that could not exist anywhere but Italy, Gandy laughed off the utter madness that imbues the race, appreciating the passion of the locals that makes it possible. It is a passion Gandy shares, as his assortment of classic cars can attest to.
Gandy did not set out to put his good looks to good use; rather, with his love of animals and cars, he aspired to veterinary surgery and worked for Auto Express Magazine delivering vehicles. He fell into modeling when a flatmate entered him into a modeling competition without his knowledge, winning nonetheless. A challenging five years of little to moderate success followed until Dolce & Gabbana picked his powerfully masculine physique out of a sea of androgynous male models, making him the face and star of their long-running Light Blue fragrance campaign. By the time of the iconic 2013 shoot with Italian supermodel Bianca Balti, David Gandy was becoming a household name, and the new round of intriguing Light Blue commercials would only add to his fame. Filmed off the coast of Capri by renowned photographer Mario Testino, the sparkling Tyrrhenian Sea provided the perfect backdrop to Gandy's sundrenched body and startling blue eyes.
Devoted to Savile Row, Gandy's wardrobe reflects another passion, that of excellence in tailoring. Combined with his extensive watch collection, his keen taste is evidence both on and off duty and in the hands-on remodeling of his 1860's Victorian Townhouse in London. Never one to rest on his laurels, the work ethics instilled in Gandy's childhood clearly leave little to chance. Besides the demands of home renovation, a long list of investments and projects keep him writing and pitching ideas while also investing in the endeavors of others. As such, he epitomizes a saying for which he professes belief, that "There is no such thing as luck. Just a well-prepared man awaiting an opportunity." So while he claims no love of modeling, he credits the profession with the opening of doors to countless opportunities, showing the good grace for which he has become known and exemplifying his credo that: "Every human being is intended to have a character of his own; to be what no others are, and to do what no others can."
One of the last of a dying breed, Gandy insists on holding doors for his fellow man. He will give up his seat and his coat, firm in his belief that: "A gentleman will have a backbone. He'll have principles and morals and will not move away from those at any cost." Acknowledging the difficulty in adhering to certain traditions in a modern-day when women have become increasingly powerful, and men are less sure "…where they stand with women," Gandy, for one, is not about to throw in the towel. His principles remain as rooted in the ethics of the gentleman as his fashion sense, embodying the precise tailoring of his style icons; men like Paul Newman, Steve McQueen, and Prince Charles, with whom he shares a love of good wool and the well-fitted suit. With his values firmly in place, the blue-collar kid who became an icon of masculine magnificence and self-respect is poised for continued success, a success spurred by a handsome face but grown from a firm foundation of ethics.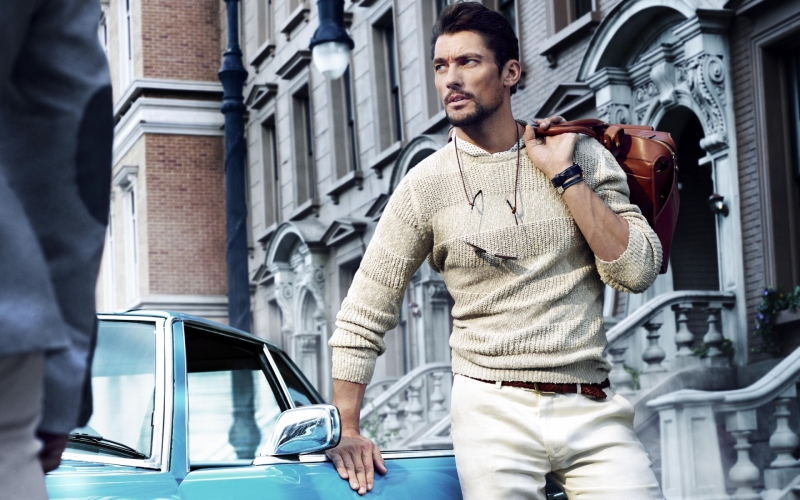 Watch Video: David Gandy...A profound Adherence to the Principles of a Gentleman
Let's Get Social...Share this Article with a Friend