By: Jeffery Steele / Photographs Courtesy of Dottling Safes
A common lament among gift-givers has always been, "What do you get the person who has everything?" Whether the person possessing everything is yourself or another, the logical answer is a Dottling Luxury Safe or customized Collector's Room. Naturally, those who have everything wish to keep their hard-won treasures. A Dottling Luxury Safe or Collector's Room ensures they do while looking simply exquisite in the process. Case in point: Dottling Colosimo "Watch Safe" Double Wing. Inspired by the iconic 1954 Mercedes 300SL "Gull-Wing," the mini-safe's clock and toggle switches are respectful nods to Gull-Wing. Its sumptuous lines harken directly back to the impeccable styling of that legendary automobile. Colosimo Double Wing is the ideal manifestation of the Dottling ethos. Were James Bond himself to hand-select a safe to secure his valuables, it would surely be none other than that of the century-old Magstadt, Germany bespoke company whose pledge of beauty and craftsmanship in the safe making is uncompromised.
The Mercedes 300SL "Gull-Wing" isn't the only design icon to inspire Dottling designers. The Barcelona Chair also galvanized greatness. When debuted in 1929 by acclaimed modernist architect Ludwig Mies van der Rohe, the Barcelona Chair was instantly proclaimed a contemporary design masterpiece by critics worldwide. Its merger of traditional leather surface and airy chrome support structure within a crisp and straightforward design immediately catapulted the Barcelona Chair to modern classic status. Dottling's Liberty Barcelona owes much of its greatness to a similar design aesthetic melding remarkable form and glorious functionality. The leather exterior of the Liberty Barcelona is patterned on the Miesian original, while its trio of drawers, dozen precision winders, and unique solidity are unquestionably Dottling. Bearing a price tag nearing six figures, it's not for those light of wallet. Then again, neither are the items it's intended to secure.
How do you keep valuables from being purloined by the light-fingered? You essentially make those baubles un-seeable. That's precisely the goal of Dottling's Safiture line of exquisitely beautiful, high-security furniture. Safiture furnishings cunningly cloak interior spaces reserved for luxury watches and other valuables. These spaces are penetrable solely by electrical or mechanical means understood by the owner and no one else. The line's most coveted piece may well be the Closet Island, featuring all-steel construction perfected on Dottling safes. Melding an integrated electronic safe lock providing access to precision-crafted security drawers, each Closet Island is custom made to exacting specifications dictated by its acquirer. Those particulars may stipulate incorporating jewelry bays, watch winders, or other covert chambers alien to the uninitiated. Closet Island's most inventive features are lighted compartments and bulletproof panes that permit owners to glimpse their treasures without even opening the drawers.
The dictionary defines a fortress as follows: "A place of exceptional security; stronghold." That term very well delineates one of the newest and perhaps most impressive product offerings ever unveiled by Dottling. Appropriately christened The Fortress, proclaimed the world's "safest luxury safe," and offered in certified security classes extending from VdS/EN 3 to VdS/EN 5, the limited-edition vault sells for over $150,000. Many owners choose to protect precious jewelry and ultra-high-end watches deep within its impermeable, black calfskin-upholstered reaches. Others prefer to safeguard their finest cigars by cocooning them within its Spanish-cedar-encased humidor with an electronic humidifying system that's beautifully and flawlessly controlled using a hygrometer and barometer of Wempe manufacture. Whatever the intention, owners find The Fortress remarkably versatile. It can wind eight watches at once through individually-controlled systems, incorporates a Dottling Colosimo two-door safe, and is configured for burglar alarm and silent alarm connections.
Regardless of how impressed you grow with Dottling, never assume you've seen the epitome of the luxury safe maker's art and science. That's because the exacting manufacturer continually takes its game to ever-higher plateaus. Exhibit A: GrandCircle, a product that makes even the most extraordinary safes seem ordinary by comparison. At the center of GrandCircle is a limited-edition hand-crafted Naeschke pendulum clock capable of running for a full four weeks on just one winding. Encircling that centerpiece are 52 separately-orchestrated watch winders. As if this were not enough, GrandCircle also includes an impossibly tiny Elac hi-fi subwoofer (the earth's smallest), a VDS Class 2 high-security safe with fire protection certification. An octet of other watch winders and drawers for jewelry, a Spanish cedar-wood-honed, climate-controlled humidor, and a brilliantly conceived built-in mini-bar. For the woman or man who has everything – the finest example being yourself -- it's everything one could desire.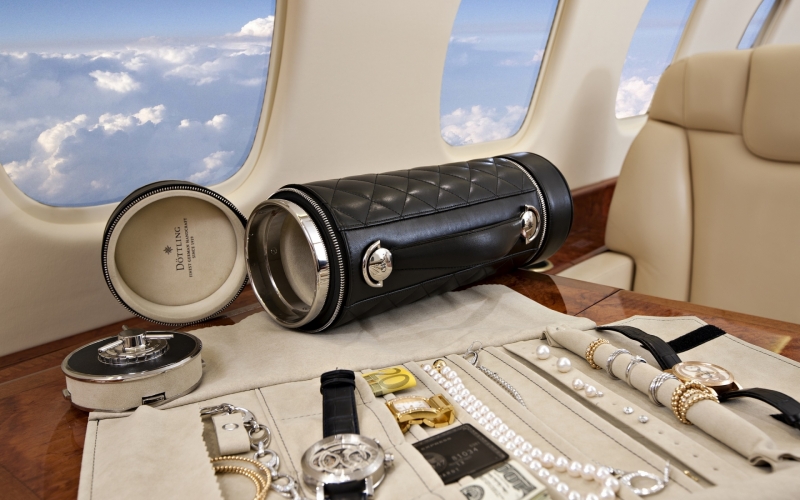 Watch Video: Dottling Luxury Safes...Legendary for Engineering Excellence
Let's Get Social...Share this Article with a Friend