By: Susannah Cord / Photographs Courtesy of Joyce Young
When it comes to bridal couture, those in the know, know there's none finer than Joyce Young Bridal Couture. The brides of England and Scotland have long known this, and thanks to special orders for First Ladies, Michelle Obama, and Hillary Clinton, American brides are also discovering the Glasgow dressmaker. With a renowned gift for choosing fabrics and color to be molded into exceptional designs with an exquisite touch of flair, Joyce Young designs are distinctively hers, exhibiting a particular feel and flow that cannot be mistaken. Carefully fitted to flatter, a Joyce Young garment is tailored to enhance and draped to embrace the wearer with elegance and femininity. Timeless and yet contemporary, Joyce Young gowns have been inspired by the romance of everything from the roaring twenties to the liberated sixties, from Downton Abbey to Hollywood glamour, while never losing sight of the most important aspect of all – the bride they adorn.
Considered one of the finest bridal boutiques in the world, Joyce Young Bridal Couture and her brand, By Storm, are copied by many and equaled by few. Whether in London or Glasgow and in need of a bit of inspiration for the gown of your dreams, seek out the Joyce Young boutique, and you will have arrived at the doorstep of a master design artist. Unfailingly voted one of the best designers in the British Isles, Joyce Young and her staff are as revered for their skills with silk and lace as their friendly and highly individualized approach to meeting client needs. Handpicking the finest silks and satins from Italy, lace from the premier mills of Europe, and beadwork from inspired artists, Joyce Young and her team of devoted artisans seek to create the dream of their client's vision, to make her special day all the more memorable.
While Young offers collections to fit a variety of needs and preferences, the bride-to-be is assured of a bespoke garment, for any dress from Young's collection will be uniquely enhanced to the bride's particular tastes and sense of occasion. If a dress is to be entirely Couture, the client will enjoy a one on one consultation with Young herself, where the By Storm motto, "You Dream, We Create," comes into full effect. Stepping into a By Storm boutique, surrounded by a romantic interior of gowns, chandeliers, and mirrors, the bride can breathe deeply in the knowledge that she and her bridal dreams are in the best of hands. Over twenty years in the top tier of the English and Scottish wedding trade have not only established Joyce Young as a woman at the top of her game but exemplified her singular taste, expressed through her timelessly graceful, feminine designs.
Graduating from the highly regarded Glasgow School of Arts in 1975, Joyce Young stayed true to her roots when she opened her first By Storm boutique in Glasgow in 1993 with her husband, Maurice. Today, By Storm has expanded and includes the London location, where, as in Glasgow, her collections are shown in exclusivity. For couture clients, an initial session with Young will explore the ideas of the bride, resulting in sketches and advice given on suitable fabrics and styles. Particular attention is given to figure and personality, that the final design may fully epitomize and accentuate the woman it clothes. As the design comes into focus, some four or so fittings and a minimum of £2,500 will see the dress of a bride's dreams come to life. It will be a small price to pay for a masterpiece of wedding couture and one of the most significant garments of a woman's life.
It is a significance Young does not underestimate and of which she was recently reminded when her own daughter celebrated her wedding day, reinforcing for Young her sense of privilege to be a part of such an important day in so many women's lives. A wedding connoisseur, Young also enjoys designing for the mother of the bride, inducing her designs with her refined sense of tradition with updated twists of sophistication. And while inspiration may easily be found in the dramas of Hollywood and Downton Abbey, Young also found a vision in her heritage, designing an inspired wedding collection around her nation's rich history with tartans. With a passionate reverence and understanding for the tools of her trade and the women she serves, Young combines lace, satin, and tartan in an unexpected union that allows Joyce Young to not only perfect but transcend the world of bridal couture.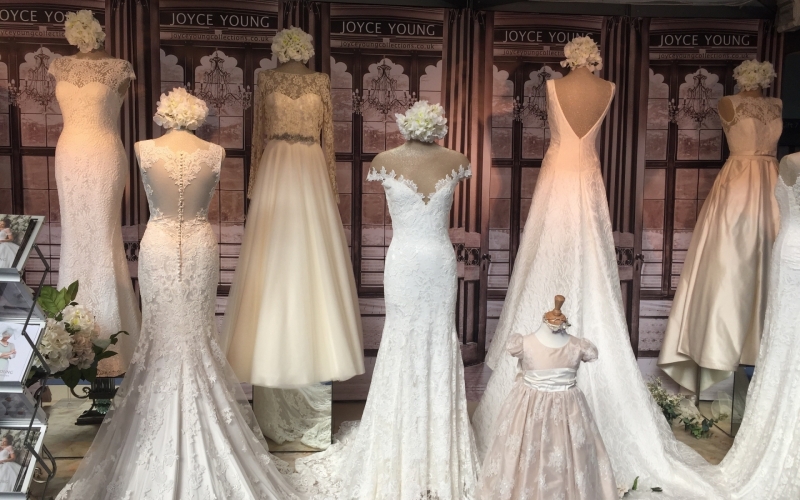 Watch Video: Joyce Young Bridal Couture...Inspired by the Romance of Downton Abbey & Hollywood Glamour
Let's Get Social...Share this Article with a Friend