By: Stephen Benak / Photographs Courtesy of Max Raabe & Palast Orchester
The suave and sophisticated gentleman pictured above is none other than the tremendously popular German Max Raabe, singer, composer, and leader of the Palast Orchester. His unwavering elegance and style are reminiscent of another era and is one of the driving forces behind his popularity. This panache combined with his catchy, foot-tapping, swing/jazz/big band music is becoming all the rage in not only Europe but here in the United States and around the world. Influenced heavily by Bertolt Brecht and Kurt Weill, Raabe has brought back melodies that were popular in 1920's Berlin and giving birth to his rising star. Max Raabe has melded his love of comedy, opera, and fascination into the quintessential incarnation of Weimar Cabaret with a new twist.
Max Raabe was born in Lünen, West Germany, in 1962. As a child, his parents introduced him to a variety of music styles, including big band, retro-swing, and a hint of jazz that was popular in pre-World War II cabarets and dance halls during the 20s and 30s. While attending the Berlin University of Arts to pursue a singing career as an Operatic baritone, he and his friends formed the Palast Orchester. With a penchant for vintage music, he re-worked the old songs while incorporating his unique style. With its elegant flair and retro style, the orchestra's first public performance was in 1987 as a secondary lobby act at the Berlin Theaterball and was an immediate success.
Taking Europe by storm, Max Rabbe and the Palast Orchester's popularity grew exponentially. They were quickly becoming a phenomenon due in part to his rich baritone and tenor vocals. Many of Mr. Raabe's interpretations of the old classics became hits again in Germany and Europe after fifty years of dormancy. The orchestra's image of a 1920s era band, replete with cultural iconography, made their appearance in period films highly sought after. Max Raabe was also becoming a commodity in his own right with important roles in several movies, the most noted was Werner Herzog's Invincible and also performing live on stage in Brecht's & Weill's Threepenny Opera.
With an eye to the future and the transatlantic market, Raabe began to write and perform increasingly in English. Entering the Millennium, another unique Max Raabe trait emerged and flourished - his flair for reworking modern pop tunes such as Super Trouper by Abba, We Will Rock You by Queen, to name a few. In 2004, Raabe and the Palast Orchester performed live for the first time in Los Angeles. The following year, 2005, marked their first performance at Carnegie Hall. Earlier this year, Max and the Orchester return to the United States for another epic tour. Hopefully, they will treat fans here in the United States to another dose of luxurious nostalgia sometime soon. Should you find yourself in Europe later this year they have new concert dates for the summer and autumn of 2021. See their 2021 concert dates here.
Singer, composer, and talent extraordinaire Max Raabe and his Palast Orchester have a nostalgic blend of panache and a unique retro sound that is gaining in popularity. Their symphonic ensemble has created its own niche and genre of toe-tapping tunes to delight everyone. Further, the debonair and dashing Max Raabe's ability to meld the nostalgia of Weimar cabaret with a refreshing twist of 21st Century pop is truly remarkable.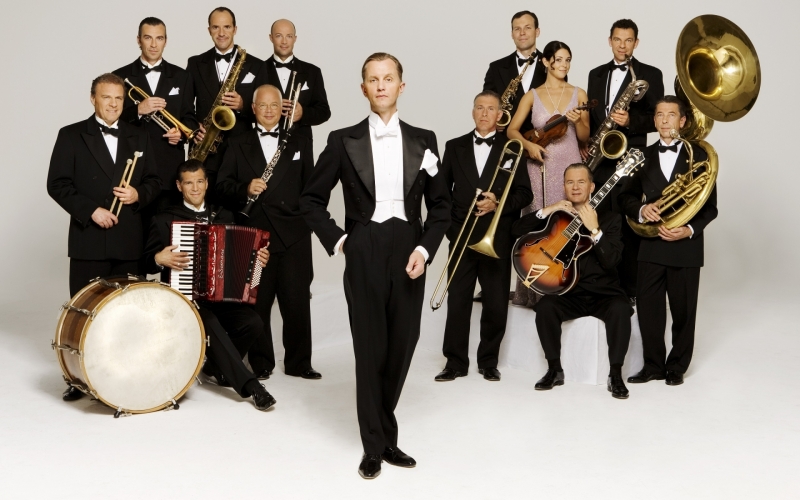 Watch Video: Max Raabe Palast Orchester
Let's Get Social...Share this Article with a Friend