By: Tom Oliver / Photographs Courtesy of ICON Aircraft
ICON Aircraft, a California-based manufacturer, headed by a former F-16 pilot, offers sport fliers a revolutionary Masterpiece, the quintessential recreational aircraft without equal, the new A5. The concept airplane first flew in 2008, and the first production unit hit the skies six years later. Startlingly futuristic in appearance, the carbon-fiber A5 is a ground-breaking light sport aircraft, featuring a landing gear that retracts. The amphibious monoplane has wings that fold up as well, allowing it to be garaged or towed. The ICON A5 is a two-seater equipped with a 100-hp Rotax 912 engine and has a cockpit that measures 46 inches in width. This dandy has received much recognition and won several awards, including being named one of Popular Science Magazine's 100 Best Innovations for 2008.
The A5's collapsible wings mean that it can be loaded onto a trailer, and brought to virtually any location by a truck or SUV. A custom towing trailer for the plane is available as an option. The ICON A5 can take off from land or water – and the wings serve as sunbathing and diving platforms. It just takes a few weeks to learn how to fly this fun and versatile aircraft. Starting at around $250,000, the ICON A5 promises exhilarating adventures in sport flying to all.
Experience the adventure of a lifetime with a sports aircraft that is exceedingly easy to fly. The simplified power controls mean there's no choke or mixture to bother with and the flight checklist is much easier with the A5 as well. The instrument panel is more intuitive (and aesthetically pleasing) and the cockpit more ergonomic than any aircraft in its category (Including many sports cars!) All of this combines to make piloting the ICON A5 an eminently pleasurable and manageable experience.
This beautiful single-engine prop takes safety seriously. The A5 was designed to prevent the pilot from losing control in the event of engine power loss (stall). ICON's goal was to make a plane that would not spin during a stall, and the A5's spin-resistant airframe is the result of careful engineering and testing by aviation veterans. The ICON A5 has been designed so that it will not descend quickly during a power loss, allowing the pilot the time and space for recovery. The ICON A5 also comes with an airplane parachute system for emergencies, and an easy-to-understand, single gauge angle of attack (AOA) system.
ICON wanted to attract new aviators to sport flying with a revolutionary masterpiece that would shake up the light aviation industry. The A5 with it's sleek and sturdy styling certainly makes it a real head-turner. Since bringing flying to more people was ICON's objective, they have designed the A5 with a target audience in mind – including those who enjoy adult toys such as jet skis, ATV's, snowmobiles, sports cars, or speedboats, but haven't ever flown an airplane. Many power-sports fans will certainly be tempted to expand their love of speed and muscle to the skies when they see this plane in action. Easy to fly, easy to take on the road, safe, intelligently engineered, and incredibly sexy, the ICON A5 will motivate many individuals to get their pilot's license and finally slip the surly bonds of earth.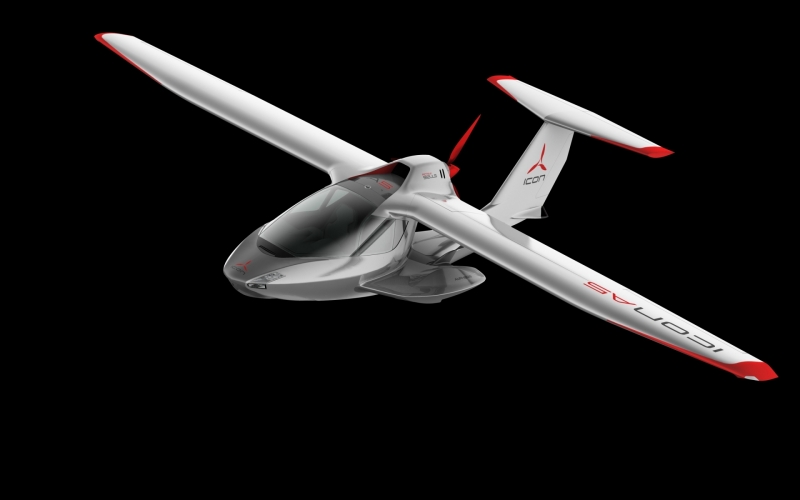 Watch Video: Behold, the New ICON A5 Light Aircraft ... A Revolutionary Masterpiece
Let's Get Social...Share this Article with a Friend