By: Susannah Cord / Photographs Courtesy of S. Cord, B. Dodson & C. Harris
Offbeat Safaris is your go-to company in Kenya for an African Adventure in style, with all the adrenalin-pumping excitement yet without the deprivation usually associated with adventures. So whether it's glamorous camping á la Out of Africa, a riding safari, a romantic cottage, or the colonial manor that catches your fancy, Offbeat Safaris has the experience and accommodations to match your most fanciful dreams. After almost thirty years of hosting adventurers from all over the world, Offbeat Safaris and their guides have accumulated innumerous awards. The devotion and loyalty of a global clientele that returns again and again for that special touch of safari and adventure that Offbeat Safaris has come to embody and define.
Founded in 1990 by adventurer Tristan Voorspuy, Offbeat Safaris started as a riding safari company with great aspirations. Over the years, Offbeat Safaris has grown under the leadership of Voorspuy to include traditional, if luxurious, tented camps offering game drives and walks. The magnificent Deloraine House exemplifies the best of colonial glamour and hospitality, and Sosian Lodge, where tourism meets conservation and traditional cattle ranching. Nowadays, joined in the business by his son, Archie, Voorspuy is an accomplished and popular guide named by The Times as one of the top guides in Africa. His devotion to Kenya's wildlife has garnered him the title of Honorary Game Warden, while his reputation as a teller of tall tales by the campfire remains legendary.
Emanating the charm of a bygone era, Deloraine House stands tall near the edge of the Great Rift Valley, welcoming guests with generously appointed rooms. Dating back to the 1920s, steeped in legend and history, Deloraine is revered as the finest example of colonial architecture in Kenya. Surrounded by forest, settled on several thousand acres on the lower slope of an extinct volcano, Deloraine offers game drives to nearby Lake Nakuru. Tranquility, an inviting pool, and opportunities for croquette, riding, and pure relaxation abound. Not only the base of operation for Offbeat Safaris and home to the Voorspuy family, but Deloraine is also where their extraordinary horses are bred, raised, and trained for polo, competition, and riding safaris.
For pure exhilaration, look no further than the Offbeat Riding Safari. There can be no comparison or substitute for the capable rider after experiencing unadulterated Africa from astride a Deloraine horse. From galloping with giraffes to facing a pride of lions or crossing rivers alongside hippo and crocodile, the sheer bliss and profound joy of traversing the African savannah on horseback renders many a rider mute in the face of a life-altering experience. After a day of living on the finest of edges, tired bodies and sated minds may rest comfortably after a warm shower, slumped in chairs around the campfire as sundowners are served, the day relived, and a three-course meal is prepared from scratch while a comfy tent and bed awaits.
If camping intrigues but horses do not, Offbeat Mara Camp merges glamour with traditional camping in ingenious harmony. Offering game drives, balloon rides, and much more, the secluded camp is located in the privately managed Mara North Conservancy, an area leased from the Maasai and unbeatable for a game viewing experience one would be hard put to find elsewhere. With strict adherence to game viewing etiquette, the wildlife and wilderness remain unspoiled. At the same time, the remote location ensures an experience populated by singular wildlife encounters rather than the press of mass tourism. With only six tents with en-suite bathrooms and private verandas, gorgeously furnished with touches of the glamorous romance of colonial Africa, the camp remains inviting and exclusive.
For a comprehensive experience of Africa, Offbeat rounds it up with Sosian Lodge, located on 24,000 acres of wilderness in view of Mt. Kenya. The 1940's renovated lodge and cozy cottages overlook the Laikipia Plateau, a view savored by the pool while enjoying a cool drink. With a plethora of activities on offer, Sosian has something for everyone, in unequaled splendor. Be it riding, kayaking, fishing, or a night game drive, rest assured it will provide the thrill of a lifetime. For like Kenya itself, Sosian and Offbeat Safaris stand for one thing – the classic African Adventure in Style.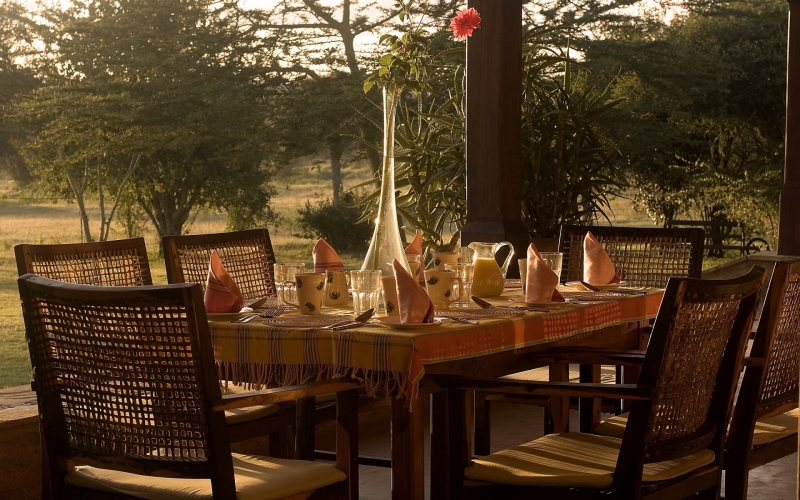 Watch Video: Offbeat Safaris...African Adventure in Style
Film Courtesy of Down to Earth Films
Let's Get Social...Share this Article with a Friend