By: Tom Oliver / Photographs Courtesy of Mullin Museum & Michael Furman
The passion of Peter Mullin with the beauty of vintage French car craftsmanship brought about the Mullin Automotive Museum in Oxnard, California. French curves abound in the vehicle styling of designers like Bugatti, Dubonnet, and Voisin, who gave the world what are perhaps the most beautiful automobiles ever created. Art Deco stylizing of the 20's and 30's involved many disciplines of design, but according to Mullin, its epicenter was the re-imagining of the automobile. The sleek, futuristic designs of the period were composed of polished wood, honed metal, glass, and a new material called plastic. You'll also see exquisite; handcrafted 19th-century carriages that were the genesis of the amazing world of automation that would fuel La Belle Epoch. Located sixty miles west of Los Angeles, Mullin transformed the original space (a warehouse which held Los Angeles Times publisher Otis Chandler's vintage auto collection) recreating the ambiance of an imaginary Paris salon of the 1930's.
The earliest automobiles, including those designed by the French, were inspired, unsurprisingly, by horses drawn carriages. This is evident when you gaze upon the 1910 Renault Landaulet. The familiar look of a coach appealed to affluent car buyers of the time while the production of auto's for the working-man, styled in very different ways, had not yet begun to take hold. Some horse carriage makers in this early period created vehicles (such as Labourdette), and some designers (such as Bugatti) hedged their bets on the new technology and still produced carriages to be driven by equine power. Mullin calls such cars as the Landaulet "sculptural art," and one can see that this is no exaggeration.
The 1922 Hispano-Suiza Type H6B featured an inline or "straight-six" 6.6-liter, 135 horsepower aluminum engine, which was based on an airplane power plant. The motor boasted steel cylinder liners and enameled water passages. It was certainly a good deal of power for such a light, wooden car and also possessed the first power-assist brakes. This Hispano-Suiza had a skiff-style body design, a concept borrowed from contemporary boat-making of that period. Aesthetically appealing, this automobile, like many at the museum, was capable of boosting the driver's adrenaline as well.
The 1939 Delahaye 165 Cabriolet – meant to represent the Third Republic at the 1939 International Expo in New York. This car has remained a mind-blowing mix of almost cartoonish design and impressive automotive technology. This vehicle is, without a doubt, one of Mullin's crown jewels. Held by the U.S. government when war broke out in Europe, it sat in a customs storage building during WWII, was purchased and brought to Beverly Hills, and later resold and driven to New York (after a Cadillac motor was dropped in it). It was sold again, moving to Hawaii, then back to California when Peter Mullin and a partner bought the Cabriolet in 1985 and immediately set about restoring it.
The Bugatti Type 57 models featured twin-cam, 135 horsepower racing engines and is stylized Art Deco at its best – the Aravis's flowing lines, and fenders shaped like tears, scream movement, and speed. Some of France's most discerning carriage-makers were tasked with producing the body of the supercharged 57SC Atlantic, which was perhaps the sexiest variation of an already very hot model. This version Type 57 had an eye-catching riveted dorsal seam that ran the length of the car. It was based on the Aerolithe concept car that Bugatti developed in 1935, which used aluminum or magnesium alloy, and required external rivets. Though the Atlantic wound up using just aluminum, not an alloy, the riveting was kept - purely for effect. Only three of the original 57SC's exist today.
Just one of two ever made, this 1934 Voisin, C27 Grand Sport Cabriolet was snapped up by the Shah of Persia, just months after its debut at the Madrid Auto Salon. It came equipped with an inline six-cylinder mono-block engine that powered the irresistible chassis designed by coachbuilder Joseph Figoni. Amazingly, the Voisin was rescued years later, in a derelict barn in the south of France. This car was lovingly and painstakingly restored by Claude Figoni the son of Joseph Figoni in the 1970's. The public can enjoy this, and the rest of Peter Mullin's passion for the curves and nuances of the early French automobiles. A trip to the Mullin Automotive Museum is a real treat for design and driving connoisseur, both young and old. "For me, the French automobiles of the 1920s and 1930s represent the pinnacle of the twentieth-century art and design." Peter W. Mullin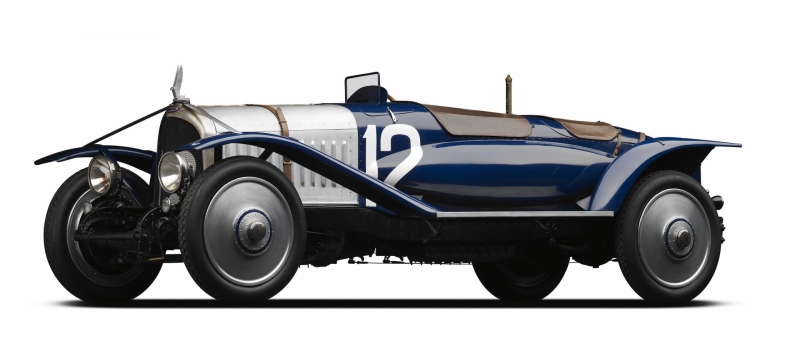 Watch Video: 1922 Voisin C3 Strasbourg Grand Prix C
Let's Get Social...Share this Article with a Friend