By: Daniel Evon / Photographs Courtesy of Clive Christian
Founded in 1978 by Clive Christian as the British brand of choice for luxury private estates around the world. The Christian phenomena have remained dedicated to the extraordinary design and exceptional craftsmanship while specializing in architectural paneling, timeless cabinetry, and furniture for stately rooms in the most exclusive residences. These interiors present a sound investment when creating a Legacy Home to be enjoyed today and appreciated by future generations. The Alpha Deco kitchen pictured above is an excellent example of Clive Christian's ever-expanding range of fine handcrafted cabinetry. For over 30 years, they have offered their bespoke design services, creating exceptional statement rooms for the rich and famous, including Rod Stewart, Celine Dion, and Shania Twain.
In 2012, Her Majesty, The Queen, recognized Clive Christian and awarded him an OBE for his services as a designer of British Luxury Goods, acknowledging that Mr. Christian has been an instrumental force in the designing exceptional English furniture. Clive's new Contemporary Collection features the Alpha Deco (The White Dressing Room) range built upon linear and geometric principles that include clean lines with an infusion of Art Deco elements. The design strongly contrasts with the ornate and embellished style of the Christian Classical Collection which has been popular for decades. The design of Alpha Deco culminated brought a high degree of opulence and contemporary influence together to create unparalleled elegance from a bygone era.
Clive Christian Contemporary walnut kitchen is an integral part of the Metro Deco Collection and has the same dynamic design components as the Alpha Deco range, except it has a flat door face with vertical grain detail and a hand pressed pinstripe inlay that exemplifies some of the finer aspects of Art Deco movement. The cabinetry is built using a traditional hardwood framework and a minimalist door style with pinstripe inlay, which in itself is a powerful fashion statement whilst maintaining Christian's quality and integrity throughout the manufacturing process. This kitchen also features strong design elements such as custom wood moldings, fluted panels of obscure glass, and beaded inset doors.
Christian has managed to turn the luxury furniture industry upside down with its incredible "Gentleman's, Master Dressing Room," which exemplifies the taste of British Aristocracy in the 21st century. This jaw-dropping achievement is worthy of only a small group of master-designer over the last hundred years. Luxurious elements of porcelain, crystal chandeliers, mother of pearl, marble, and mosaic run throughout this Gentleman's dressing room, all of which take their design cue from periods in English history and personify British craftsmanship Clive Christian continues to deliver.
The Clive Christian Library Bookcase from the Metro Deco collection is a brilliant and inspiring understatement. Once again, the genius of High Street has masterfully created an oasis for an Englishman gentleman in New York. Do yourself a favor and crank up Gershwin's Rhapsody in Blue. Sit back and marvel at British craftsmanship on display with decorative inlays, burr veneering, solid dovetailed drawers, and exquisite exterior finishing, all handmade to ensure the beauty and luxury of your project are not only skin deep but absolute. All Clive Christian rooms are specifically designed to your unique specifications, with extraordinary attention given to every detail. The Christian New York Soho showroom is located on Broadway at Houston St. and is located in a very desirable area of the city, famous for its movie back-drops, fashion shoots, and A-list celebrities.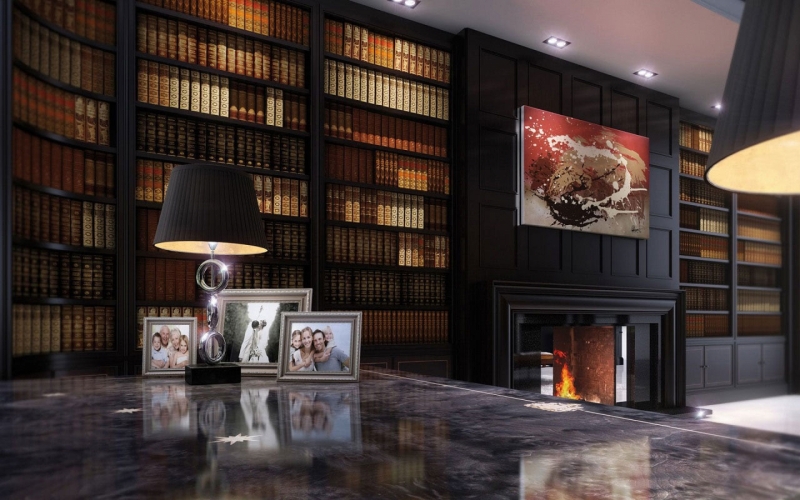 Watch Video: Clive Chrisitan Contemporary Interiors
Let's Get Social...Share this Article with a Friend