By: Elaine J. Masters / Photographs Courtesy of Galapagos Conservancy
It's early on Espanola Island, and after hunting in the surf, a clutch of Marine Iguanas is already warming themselves on an ancient lava flow. Finches hop near, gingerly moving between the giant reptiles. They peck, darting look up and down while searching for food. The iguanas don't flinch as the finches continue removing annoying bugs from their wrinkled hides. This surprising interdependence is even more remarkable as a small band of visitors stands about ten feet away. Lucky cruise guests walk the islands with Galapagos Park Naturalists, and the wildlife barely notice. It's a cooperation that Charles Darwin would have appreciated after studying the small finches of the islands and changing the way the world looks at evolution.
By the time Darwin stepped from the H.M.S. Beagle, pirates, and then whalers had nearly decimated the island's wildlife. Giant turtles, prized by sailors, were captured by the thousands. They were stacked and stored on their backs as a ready food source at sea. The Sailors hunted birds and even iguanas, while the Sea lions brought gold for their furry pelts. Finally, American Captain David Porter drove the whalers off and unintentionally released several goats on Floreana; then, they were released on Santiago Island. They disappeared into the hills, multiplying significantly, devastating native plant life and, consequently, local animals. To this day, invasive species present one of the most significant threats to the Galapagos Islands. Visitors help the fight by following instructions to carry no seeds or plants to the islands. Flight baggage and compartments are treated to fight invading bugs. A conservation fee of $100, required from each visitor, supports the efforts.
Restoring turtle populations is the mission of the Charles Darwin Research Center in Puerto Ayora on Santa Cruz Island. When Pinta Island lost its last turtle, the "rarest animal alive," according to the Guinness Book of World Records, Lonesome George became a celebrity well over one hundred years old. Efforts rose then failed to help him father offspring. He died in 2012, and his remains stand in a carefully guarded display in the Darwin Center. In the foothills of Santa Cruz, where low clouds and rainfall have created a lush landscape, there are two Turtle Preserves. Visitors are warned when they arrive by local and private buses to walk the trails and stand no less than ten feet from the wandering creatures. But, again, the hefty tortoises hardly notice the attention, preferring to munch abundant grasses or linger in mud baths.
There are no direct flights to the Galapagos Islands. The archipelago sits six hundred miles offshore, and visitors must first fly Guayaquil, Ecuador. Then you can board one of the eighty-seven ships certified by the Galapagos National Park. Each is assigned an annual itinerary to limit the number and impact of tourists. All have mandatory Park Naturalists who lead and manage small groups taken to the islands by zodiac boats for dry or wet landings. Ships like the Silversea and Sea Star offer Luxury State Rooms, hot tubs, fab views, and wonderful Pisco Sours! Those who prefer land-based day trips may stay in one of the four villages in the archipelago, where accommodations range from luxury and eco-lodges to modest hostels.
The islands are swept by several currents, which lure marine life into their rich waters. Dive cruises focus on the outer islands where close encounters with masses of large aquatic creatures like Hammerhead Sharks and teeming schools of fish make regular appearances. Snorkelers are likely to come face to face with curious sea lions, swim next to giant marine tortoises, and watch timid, baby sharks in the shallows. On San Isabela Island, trails lead past packs of dark, juvenile iguanas. The skittish young rest or dart, perfectly disguised, into black volcanic rock. On Baltra Island, Red-throated Frigate Birds stand at attention, hoping to lure mates to their nests. Walk with care as sleeping sea lion pups nap on paths and nesting Nazca or Blue Footed Boobies perch near. Hawks hover over the weak and newborn, but most animals have an easy truce with one another, having learned to survive through the millennia. With care, this natural abundance and our species will enjoy each other long into the future.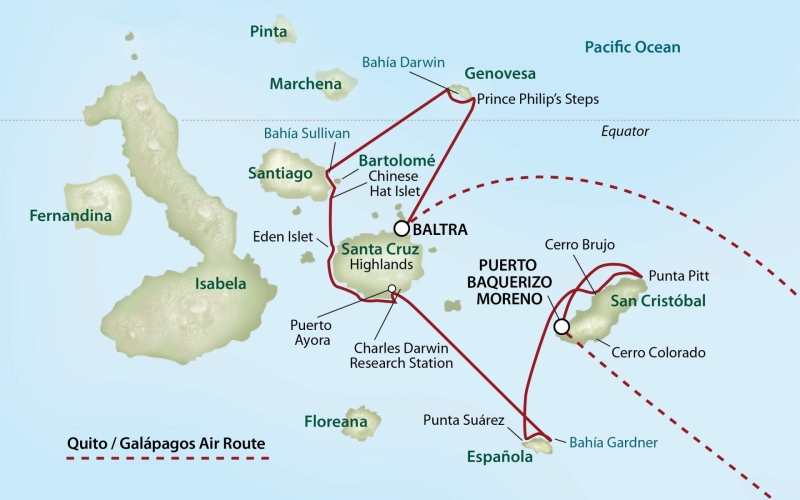 Watch Video: The Galapagos Islands...Darwin's Rare Wonder
Let's Get Social...Share this Article with a Friend